Canon ME20F-SH overview videos (the ISO 4.5M camera that can see in the dark)
Canon ME20F-SH at a glance:
Up to 4 Million ISO & 12 Stops DR
Full Frame 35mm CMOS Sensor
Canon DIGIC DV 4
Full HD up to 60p
HD/3G-SDI & HDMI Connectors
Canon Locking Cinema EF Lens Mount
Do you remember the Canon ME20F-SH, the Canon camera with ISO 4.5M (yes ISO 4,500,000)?
CanonUSA on YouTube posted two videos that give a good overview about the Canon ME20F-SH. The ME20F-SH is a hghly specialised camera, and it sells at $20,000, so it is not the nice camera you want to gift to your spouse or your childrens.
More about the Canon ME20F-SH after the break.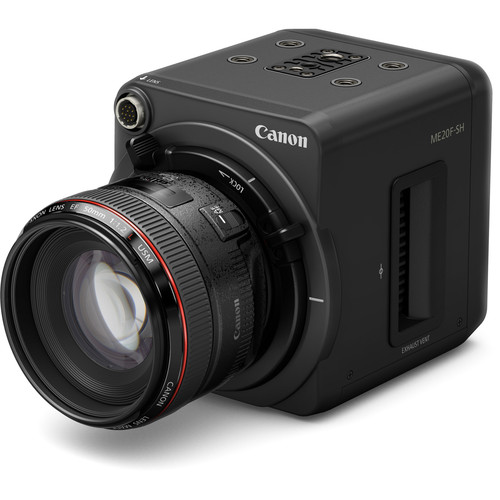 Canon ME20F-SH overview (from B&H's product page):
Featuring an astonishing four million ISO rating, the Canon ME20F-SH Multi-Purpose Camera captures video at up to 1920 x 1080p 60 and supports both NTSC and PAL broadcast frame rates. The camera incorporates a full frame 35mm-sized sensor with approximately 2.26 million pixels. This results in a pixel that is about 7.5 x larger than the pixels on optional Canon Full-frame DSLR cameras, which provides for camera's notable ISO rating.
Incorporating a Canon DIGIC DV 4 image processor, the camera supports 12 stops of dynamic range, and features Wide DR and Canon Log gamma profiles that protect highlight and shadow detail. The camera body is small in size and features 2 x HD/3G-SDI outputs, and a single HDMI output. The camera incorporates a Genlock-in for integrating this camera into a multi-camera shoot. Although small in size the ME20F Multi-Purpose camera features a locking Cinema EF Lens mount.
This small box sized camera is versatile and can fit into smaller spaces. You can use optional accessories to configure the camera for a variety of applications.
The camera's sensor feature photosites that measure 19 micrometers, which is 7.5 times larger than the photosites of the nominal Canon 35mm DSLR sensor. This allows the camera to provide excellent low light performance.
This is an HD camera body only and is capable of capturing 1920 x 1080 footage at 59.94P / 59.94i / 50.00P / 50.00i / 29.97P / 25.00P / 23.98P.
Professional connectivity includes the HD/3G-SDI connectors and genlock input, allowing the camera to be easily integrated into a multi-camera workflow. The OSD is available on both the HDMI and the first SDI output.
The camera features a built-in filter stack including a clear filter, an ND 1/8, and an ND 1/64, as well as an IR cut filter, this allows you to choose to use the IR cut filter much as you would choose from the built-in ND filters.
The camera features built-in One-shot AF, and Push Auto Iris. The One-Shot AF assists in focusing adjustment with a dedicated button. Focus status can be confirmed on an external monitor. Push Auto Iris automatically adjusts the aperture of the lens to quickly and easily maintain proper exposure, even in situations where lighting changes frequently.
The locking cinema EF mount is compatible with EF mount lenses, and provides a stronger attachment to the camera than a standard EF mount. The front of the camera features a 12-pin lens terminal enabling lens connectivity with EF mount CINE-SERVO lenses or 2/3″ broadcast lenses with an optional third party adapter.