Canon Patent for a 2mm f/1.4 Weather-Sealed Lens (action camera coming?)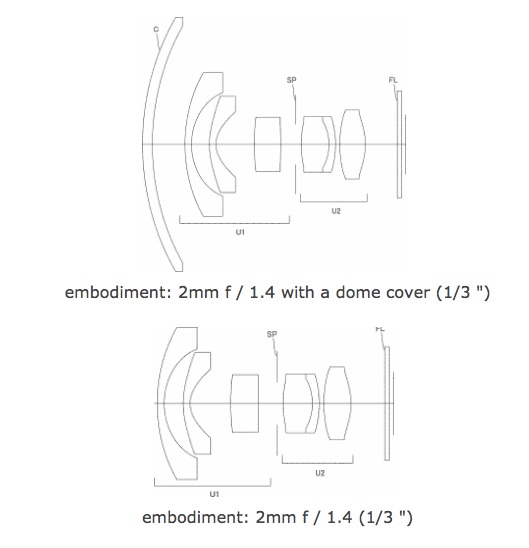 I totally missed this patent. Found it on Action Camera Rumors while surfing the web.
The patent was spotted by Egami (translated). The patent is for a 2mm f/1.4, weather-sealed lens. Such a lens could be used in surveillance cameras, or, as Action Camera Rumors suggests, for an upcoming action camera made by Canon. I think the lens in the patent will go on some surveillance camera (since Canon is already active in this domain). However, not all patents make into a market product.
Given all the hype around action cameras, who can say Canon is not planning one? Egami also mentions the possibility that such a lens would fit well on an action camera.
Machine translated patent description:
Patent Publication No. 2014-197128

Published 2014.10.16

Filing date 2013.3.29

Example

Focal length f = 2.03mm

Fno. 1.44mm

Half angle ω = 59.18 °

Image height 3.00mm

Overall length of the lens 32.17mm

BF 0.51mm

Canon patent of

Focus position of the periphery of the screen is displaced When mounting the dome cover

And suppress the deviation of the focus by changing the air space of the lens, depending on the presence or absence of the dome cover
[
Egami
 via 
Action Camera Rumors
]