Canon Patent For Box-shaped Camera Body (Cinema EOS?)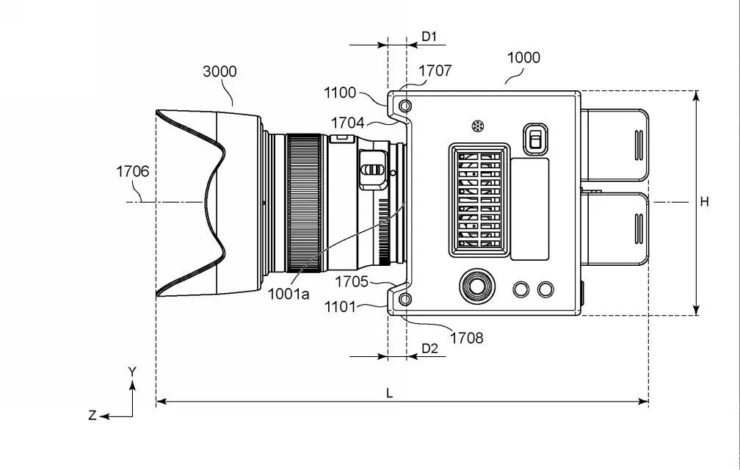 Rather interesting Canon patent application. A box-shaped interchangeable lens camera.
Canon patent application 2023024538 (Japan, published 2/16/2023) discusses methods and technology for a box-shaped camera (or a protection for a box-shaped camera?).
From the patent literature:
A camera mount protection when a lens is removed from an imaging device with a detachable lens.
Description of the Related Art
A lens-exchangeable imaging apparatus is known in which a lens device can be attached to and detached from a mount formed on the front surface of a camera body. Also, interchangeable-lens imaging devices with a very short distance from the lens mount to the image sensor have appeared, such as so-called mirrorless cameras that do not have a reflecting mirror to guide the incident light of the lens device to the optical viewfinder.
Further, some interchangeable-lens imaging apparatuses have a tripod or a seat on a plurality of side surfaces of the camera body, and are capable of vertical shooting or upside-down shooting. Patent Literature 1 discloses a camera having a mounting surface and a tripod mount on the top surface. Or you can shoot with the camera fixed upside down on the gimbal.
In Patent Document 1, the lens mount protrudes from the camera body when the camera is viewed from the front side. Therefore, if the camera is placed with the mount surface facing downward while the lens device is removed from the camera body, the mount surface may be damaged.
In addition, when a large lens device is attached to the camera body, the center of gravity of the camera as a whole is shifted forward from the tipping limit, and there is a concern that the camera may topple forward. This is especially noticeable when the camera body is made smaller and lighter, such as with a mirrorless mount.
SUMMARY OF THE INVENTION
It is an object of the present invention to provide an image pickup device capable of protecting the mount of the image pickup device when the lens is removed.
More Canon patent applications are listed here. 
[via asobinet]