Canon Patent to Increase Dynamic Range of Sensor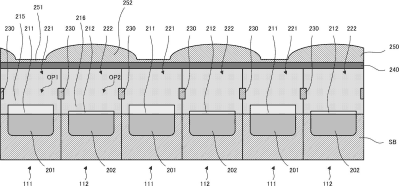 Egami (translated) spotted a patent filed by Canon for a new sensor technology that expands the dynamic range of the sensor with a thin polysilicon layer applied on top of the photodiode layer of a sensor.
As far as I understand the patent, the polysilicon layer's thickness is not the same for all the underlaying photodiodes. This influences the sensitivity of the photodiodes through the transmittance of light, which is attenuated by the film according to its thickness. The result are pixels (=photodiodes) with different light sensitivity.
Looking at the image above, it seems that there is one pixel with a thicker layer for each pixel with a thinner layer. The layer thickness appears to act on the the exact area where the photodiode detects the incoming photons.
An interesting patent that points to a new sensor technology. Hard to say if this tech will show up soon, for instance in the again rumored high megapixel cameras expected for 2015.The technology described in the patent does not refer to a given class of sensors, nor to a sensor size. It's a technology that could find its way in any future Canon sensor.
Canon sensors are often critiqued for having a dynamic range below the competition, and thus getting lower DxOMark scores for their sensors. It appears Canon is going to address the issue.
Machine translated patent description:
Patent Publication No. 2014-175553

Published 2014.9.22

Filing date 2013.3.11

Canon patent

Optical attenuation film is arranged by polysilicon over the photoelectric conversion portion

Transmittance of light depends on the optical attenuation film is its thickness, thickness varies depending on the pixel

Small pixel transmittance is, the opening area is small

RGB any of the color filter

Transmittance R <G <B
[via 
Egami
]