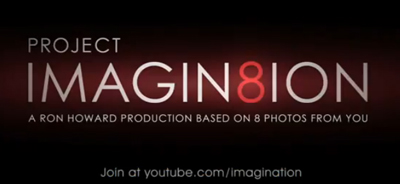 "Welcome to Project Imaginat8ion, the first ever user-genereted photo contest inspire a Hollywood short film. In the next month, 8 photos will be chosen by Ron Howard to set the stage for his next production."
This time your imaginary will inspire a Hollywood short movie.
It is a collaboration with a big director in which your photo-idea becomes an interactive work-table with Canon and Ron Howard to set the stage for this peculiar production.
An opportunity for Canon photographers and an opportunity for Canon to draw new ideas and stimulation from his creative community.
Canon Usa "has launched a new multi-dimensional marketing campaign, "Long Live Imagination," which centers on a unique collaboration with one of Hollywood's most influential directors, Ron Howard. On May 22nd, Ron Howard and Canon U.S.A. invited photographers of all levels to submit their most imaginative photographs based on a series of movie themes for "Project Imagin8ion," the first user-generated photo contest in history to ultimately inspire a Hollywood short film. The "Long Live Imagination" site, designed as an interactive and engaging community for Canon users and photography enthusiasts, launched on May 22nd at www.youtube.com/imagination. The contest and this site will foster dialogue amongst the community, and directly with Canon, inspiring everyone to new levels of creativity."
"I'm known as a narrative storyteller, so when Canon approached me to partner on the 'Long Live Imagination' campaign, I was moved by the opportunity to collaborate with the masses, tapping into consumers' creativity and using their photos as building blocks to produce a film," said Howard. "I hope the project stimulates people's imaginations whether they are an amateur photographer, a world traveler or a proud parent, and I hope what we create is meaningful." Canon USA Press release

EOS-1D Mark IV price: Amazon DE, Amazon UK, Amazon IT, Wex Photo Video, Canon DE, Canon UK EOS 5D Mark II: Amazon DE, Amazon UK, Amazon IT, Wex Photo Video, Canon DE, Canon UK EOS 7D: Amazon DE, Amazon UK, Amazon IT, Wex Photo Video, Canon DE, Canon UK EOS 60D: Amazon DE, Amazon UK, Amazon IT, Wex Photo Video, Canon DE, Canon UK