Canon Published Their Corporate Strategy For The Upcoming Years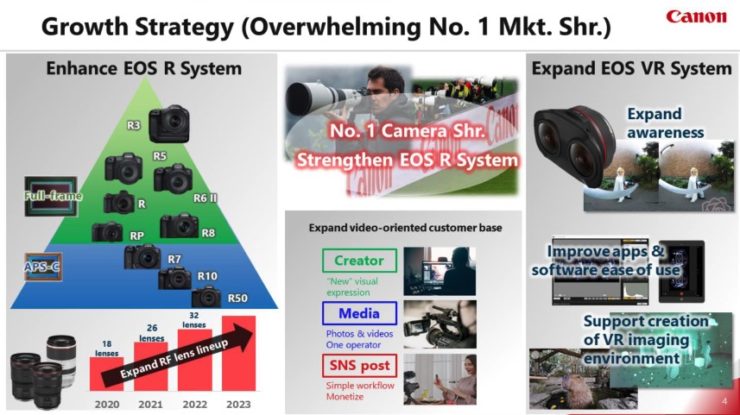 Canon posted the companies corporate strategy for the years to come.
As for the imaging sector (excerpt):
The main products currently supporting the Imaging Group are the EOS R System, the Cinema EOS System, professional camcorders, broadcast lenses, network cameras, etc.

For the purpose of shooting and viewing images, we have grown this business. From now own, however, through the development of new technologies and responding to market changes, we are promoting expansion into new business areas, namely image experience, image utilization and utilizing components as show on this charge.

Our results of last year and our future growth strategy.

Last year, the Imaging Group achieved sales and profit growth and a significant improvement in profitability. As for cameras, our mirrorless camera market share remained stable thanks to our strong market reputation. We also posted strong sales of new products. Through this, our camera business is supporting earnings as a mainstay of Imaging.

As for network cameras, we posted record-high sales thanks to significant growth in AXIS revenue. Additionally, Free Viewpoint Video, which is a new initiative, is expanding its field of activities such as commercials and dramas. It was also well received by professional sports broadcasts in Japan and overseas. Our future growth strategy is to create new businesses while maintaining high profitability in existing ones. With EOS R and other existing products, we will create new markets and businesses by offering attractive products that anticipate market demands, strengthen our profit structure, activate group synergies, and deliver unprecedented value through products and solutions.

[…] This year, we expect the global market for interchangeable lens cameras to be around 5.5 to 6 million units and more than 70% of this to be mirrorless cameras. This year as well, we expect to maintain our No. 1 share of the interchangeable-lens camera market and at the same time aim to No. 1 in mirrorless cameras as sub-segment as well. In addition to market share, we
will also work to expand sales volume of the EOS R System itself through three measures. The first is "enhancing the EOS R System." To this end, we will expand our lineup of cameras and lenses to meet the diverse needs of our customers. Moreover, in recent years, the demographic of video-oriented users, such as video creators, media users, and SNS users, is thick and growing. We aim to expand the scale of the R system by including functions and performance that respond to user requests not only for still images but also for videos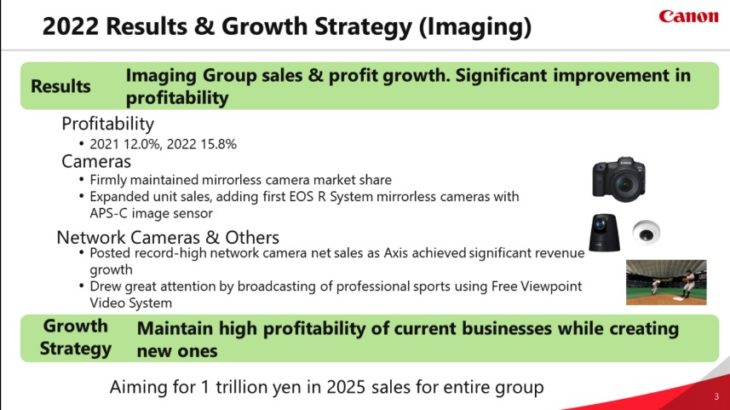 All published documents are available here.