Canon Rebel T3i Most Used on Flickr And Among Best Selling DSLR On Amazon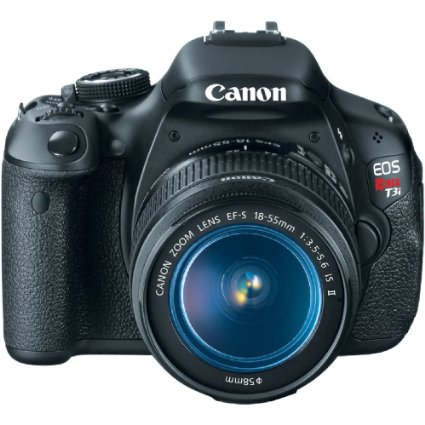 The Phoblographer did some research and found that the good old Canon Rebel T3i/EOS 600D (released in 2011) is the most used dedicated camera on Flickr, and it is the best selling DSLR on Amazon US (edit: it was until a few days ago, today it's ranked 2nd).

The T3i/600D sports an 18MP sensor, a 9 point AF system, shots 3.7 fps, records 1080p HD video, has an articulated screen, and goes up to ISO 12800. The T3i/600D is an excellent option for those who want to start using a serious DSLR without breaking the bank. The T3i/600D with the 18-55mm IS lens currently sells for $549 on Amazon US. Want to see what the T3i/600D delivers? Have a look on Flickr.
Canon Rebel T3i/EOS 600D price check: B&H Photo, Adorama, Amazon USA, Amazon CA, KEH Camera, BestBuy, Canon CA, Canon USA [via The Phoblographer]
Product description and specs after the break
Canon Rebel T3i specs and description (from B&H's product page)
18MP APS-C CMOS Sensor
DIGIC 4 Imaging Processor
3.0″ Clear View Vari-Angle LCD
Full HD 1080p Video With Manual Exposure
Compatible with Canon EF and EF-S Lenses
3.7 fps Burst Shooting & 100-6400 ISO
63 Zone Dual-Layer Metering / 9-Point AF
SD/SDHC/SDXC Memory Cards & USB 2.0
Live View & Intelligent Auto Scene Mode
The Canon EOS Rebel T3i DSLR Camera body puts the widely respected value and flexibility of the Rebel DSLR at your fingertips. Pair it with any Canon EF and EF-S lenses to create photographs that are uniquely your own. With an 18MP CMOS (APS-C) sensor and Canon's DIGIC 4 Image Processor the T3i captures beautiful, high resolution JPEG, RAW, and RAW+JPEG images to your choice of SD/SDHC/SDXC memory cards (sold separately), or external media via the included USB cable.
The camera also records full HD .MOV video at 1920 x 1080/30p/24p, among other frame rate options. The wide range of compatible lenses and the camera's dedicated live view give you the flexibility you need to create wonderful HD DSLR movies.
No matter what you're recording – still images or vibrant video – the T3i provides you with a vari-angle 3.0″ Clear View LCD monitor that flips-out and is adjustable at a variety of angles for shooting and review of your subject. The camera also features an eye-level viewfinder for more precise composition of shots.
Canon's 63 zone dual-layer sensor works with the 9 point AF system for excellent exposures by minimizing in-camera meter reading error. The system produces more accurate images even in low-lit settings. The T3i also features an in-camera flash or the option to connect a flash, and is Speedlite compatible. Another feature worth mentioning when it comes to exposure include the camera's 100-6400 ISO rating which is expandable up to 12800. Using this setting along with Canon's Optical Image Stabilizer produces incredible low light shots.
In addition, the T3i features a number of user-friendly modes that allow the user to simplify their experience. Intelligent Auto mode, for example, takes the guesswork out of shooting by automatically setting 5 of the camera's technologies to create the optimum image. Other helpful shooting controls like Basic+ provides the user with 2 options for making creative photos like a pro. The ambience selection adjusts exposure and white balance to give your images a unique look and feel. When shooting by lighting or scene type, Basic+ creates artistic filters for the scene or gives it the feel that the viewer is focused on the center of the image. Of course, other shooting controls like the feature guide and quick control screen help to streamline your experience with the camera as well.
The Rebel on the Move

Photographers looking for an easy-to-use camera that will help them create their next masterpiece need look no further than the Canon EOS Rebel T3i. The next in a long line of phenomenal compact DSLRs, the EOS Rebel T3i continues the Rebel tradition of easy operation, compact design and no-compromise performance. Featuring Canon's newest DIGIC 4 Image Processor and an 18.0 Megapixel CMOS Image Sensor – plus cutting-edge technologies like Full HD video recording, Live View shooting, Wireless flash photography and even a Vari-angle 3.0″ LCD monitor – the EOS Rebel T3i offers the best of EOS photography in a compact package
High Resolution Still Capture

The EOS Rebel T3i has an 18.0MP CMOS (Complementary Metal Oxide Semiconductor) sensor that captures images with exceptional clarity and tonal range and offers more than enough resolution for big enlargements or crops. This first-class sensor features many of the same new technologies as used by professional Canon cameras to maximize each pixel's light-gathering efficiency. Its APS-C size sensor creates an effective 1.6x field of view (compared to 35mm format)
DIGIC 4 Image Processor

The Canon DIGIC 4 Image Processor dramatically speeds up the entire EOS Rebel T3i DSLR's camera operations for intuitive operation and offers improvements in both fine detail and natural color reproduction. It works in concert with the EOS Rebel T3i DSLR's CMOS Image Sensor to achieve phenomenal levels of performance in nearly any situation
Amazing Results, No Matter the Light

The EOS Rebel T3i features an expanded ISO range that makes shooting possible in situations previously unthinkable without flash. With an ISO rating up to 6400 (expandable to ISO 12800), along with the DIGIC 4 Image Processor's improved noise-reduction technology, creative possibilities abound. Combine the EOS Rebel T3i with one of Canon's EF or EF-S lenses with Optical Image Stabilizer and the shooting possibilities for both movies and stills expand even further
HD Dreams Come True

The EOS Rebel T3i does not just shoot video clips, it offers the enhanced ease-of-use, image quality, smooth frame rates and adaptive exposure compensation necessary in a professional video-making tool by boasting the most advanced EOS video capturing features to date: When Full HD (1920 x 1080) is set, you can use Movie Digital Zoom to magnify the center of the image by 3-10x while at the same time maintaining gorgeous Canon Full HD image quality. With the Video Snapshot feature, the EOS Rebel T3i DSLR will capture short video clips (of 2, 4 or 8 seconds) then combine them automatically into one video file as a snapshot or highlights "album." With no editing needed after shooting, the compiled video is perfect for sharing online or displaying directly on an HDTV via the camera's HDMI portIn addition to a number of different recording size and frame rate modes, the EOS Rebel T3i enables easy manual control of exposure, focus and Live View features and even allows for in-camera editing. The large CMOS sensor and compatibility with over 60 lenses provide a wealth of depth-of-field options. And it's all as easy as the press of a button – the EOS Rebel T3i has a dedicated Live View/Movie Recording start/stop button that gets the shooting started fast
Three Recording Sizes

Full HD Video is captured at 1920 x 1080 resolution at 30p (29.97), 24p (23.976) or 25p frames per second, for up to 4GB per clip. Videos are saved as .MOV files and can be viewed in Full HD with HDMI output. Other recording sizes include HD at 1280 x 720 (50p/60p (59.94) fps) or SD/VGA at 640 x 480 (30p (29.97) and 25p fps)
Low Angles or High, a Big Vari-Angle LCD Captures All the Details

The EOS Rebel T3i features a bright, high resolution, flip-out Vari-angle 3.0″ Clear View LCD monitor for shooting at a variety of angles. By simply rotating the monitor, you can hold the camera directly overhead for above-the-crowd shots at concerts, or hold the camera at a low angle for kids and pets. By rotating the LCD monitor fully, the EOS Rebel T3i becomes the ideal camera for self-portraits. The EOS Rebel T3i freely enables easy angle adjustments even if the camera is mounted on a tripod or has a battery grip attach
Automatic Scene Analysis for Standout Color

The EOS Rebel T3i DSLR's new Scene Intelligent Auto mode unites five Canon digital camera technologies – the new Picture Style Auto, plus Automatic Lighting Optimizer, Automatic White Balance, Autofocus, and Automatic Exposure -into a powerful new feature for photographers. Using the advanced EOS Scene Detection System, the camera automatically analyzes the image, taking into account faces, colors, brightness, movement and contrast. Scene Intelligent Auto then chooses the enhancing features to deliver maximum impact. Blues and greens are more vivid, "hot" colors are more fiery, and skin tones are smooth and truer to life
Make Your Images As You See Them

Basic+ is a new creative imaging feature that makes it easy to create the image effects you want. It can be set with the Quick Control screen in Basic Zone modes. Basic+ provides two options:Shoot by ambience selectionBased on the Picture Style and its parameters (sharpness, contrast, saturation, and color tone), the exposure compensation and white balance correction are adjusted to attain the selected ambience. You can also can also select the strength of the ambience effectShoot by lighting or scene type

Although the actual parameter set is the white balance, the settings are expressed in more understandable terms

The Multi-Aspect Function of the EOS Rebel T3i lets you express an image in one of three ways by matching the aspect ratio to each scene. In addition to the camera's standard 3:2 ration, the Multi-Aspect Function includes a 1:1 ratio that creates the sensation that the viewer's gaze is focusing upon the center of the image. At the 4:3 ratio, you get nearly the same aspect ratio as a regular TV or a 4:3 computer display. The 16:9 aspect ratio provides a wide look, much the same as HDTV

The EOS Rebel T3i incorporates five in-camera Creative Filters so you can artistically manipulate scenes without the aid of an outside computer. Soft Focus lends a dreamy, romantic aspect, while Grainy Black and White gives a dramatically gritty, hard-bitten look. Miniature Effect creates an illusion in which expansive subjects are seemingly reduced to doll-house-like proportions, and Toy Camera Effect recreates the colors and softness rendered by cameras with a plastic lens, an effect often sought after by art photographers. Fish Eye Effect mimics the "Fisheye" lenses that are favorites of professional photographers for their quirky, convex perspective
Intelligent Scene Analysis for Superb Exposure

The EOS Rebel T3i features a sophisticated, 63 zone Dual-layer sensor designed to complement the 9-point AF system. By taking into account the color and luminosity surrounding chosen AF points, this system delivers an advanced level of accuracy for better results even in difficult lighting situations. Since the metering sensor has a color measurement function, exposure errors and focus errors caused by different light sources are minimized; the EOS Rebel T3i gives stable exposure from shot to shot in situations where light changes, such as in a theater or concert hall. This makes the EOS Rebel T3i ideal for scenes with extreme difference in brightness such as brightly lit scenes or backlit scenes; the camera balances exposure of the main subject at the background, and exposures are not overly influenced by bright areas in the shot. Since the EOS Rebel T3i provides high-speed X-sync ("X-sync" means the fastest shutter speed that can synchronize with a flash burst at the moment the shutter is fully released) up to 1/200 sec., the range of photographic expression is dramatically increased, allowing the EOS Rebel T3i to be used with confidence in bright scenes or dim
Never Miss a Moment

The EOS Rebel T3i can shoot up to 3.7 frames per second (fps) for up to approximately 6 consecutive RAW files or approximately 34 full-resolution JPEGs. Shooting at speeds of up to 1/4000 sec., the EOS Rebel T3i can capture even rapidly-unfolding scenes with ease
Photography Made Truly Easy

The Canon EOS Rebel T3i DSLR demystifies great photography by including an in-camera feature guide. Appearing on the camera's LCD, the feature guide displays a simple description or advice for the respective function. It is displayed in each shooting mode, during mode dial operations, and for quick control screen functions (during normal shooting, Live View shooting, movie shooting, and playback). The feature guide appears automatically during mode dial operations and when a function is selected on the quick control screen
Flexible Storage with Memory Cards

The EOS Rebel T3i uses popular SD, SDHC and SDXC memory cards. Compact, inexpensive and available in increasingly large capacities, SD, SDHC and SDXC memory cards are a perfect complement to the EOS Rebel T3i DSLR's compact and lightweight body design. Using the included USB cable, you can also transfer and record to other forms of media, like external hard drives.Additionally, the EOS Rebel T3i is compatible with Eye-Fi SD cards, which are outfitted with a Wi-Fi transmitter (IEEE 802.11b/g) and an internal antenna for wireless, high-speed transfer of images. With an Eye-Fi card installed, the EOS Rebel EOS Rebel T3i can display the Eye-Fi's connection status and error notes with ease, for fully functional wireless uploading of images directly from the camera
EF Lenses

The EOS Rebel T3i is compatible with all Canon lenses in the EF lineup, including compact and lightweight EF-S lenses, ranging from ultra-wide angle to super telephoto lenses. Canon lenses employ advanced optical expertise and micron-precision engineering to deliver outstanding performance and deliver beautiful results. Special technologies like the Canon Image Stabilizer technology in select lenses helps to minimize the effect of camera shake, effectively adding up to four stops of light. With a dizzying array of lenses perfect for travel, sports, still life and everything in between, photographers can truly maximize the quality and performance of their EOS Rebel T3i with superlative Canon optics
Flash Photography

With a flash sync speed of 1/200 of a second, the EOS Rebel T3i also features the acclaimed E-TTL II flash metering system. With any of the flashes in the EX Speedlite line, E-TTL II provides reliable flash output whether shooting fill-in flash pictures in sunlight, or using flash in total darkness. With E-TTL II, the exact same 35-zone metering sensor used for measuring ambient light is also used for flash metering – giving even finer metering command of the image area. If you prefer a broader area for flash metering, there's a menu setting to change to "Average" flash metering – where the entire 35-zone area is measured evenly for flash exposure. Additionally, the EOS Rebel T3i has a Speedlite transmitter built-in for convenient, full-featured wireless control of EX-series Speedlite flashes set as slave unitsThe Canon Speedlite 430EX II is the ideal step-up accessory for powerful flash shooting with the EOS Rebel T3i. It has excellent flash power (maximum guide number of 141 ft./43m at ISO 100), and is the perfect way to get great flash pictures when you can't get right up to the subject. The 430EX II is also great for bounce flash, with its tilting and swiveling flash head. It automatically zooms the flash head to cover lenses ranging from 16mm up to 105mm or longer with the EOS Rebel T3i. Of course, it works with the camera to provide full E-TTL II automatic flash exposure. And the 430EX II has a powerful AF-assist beam, which allows the camera to autofocus even in total darkness on subjects as far as 32 ft. from the camera