Canon Releases Interim Financial Report, Sales Plummeted By 10%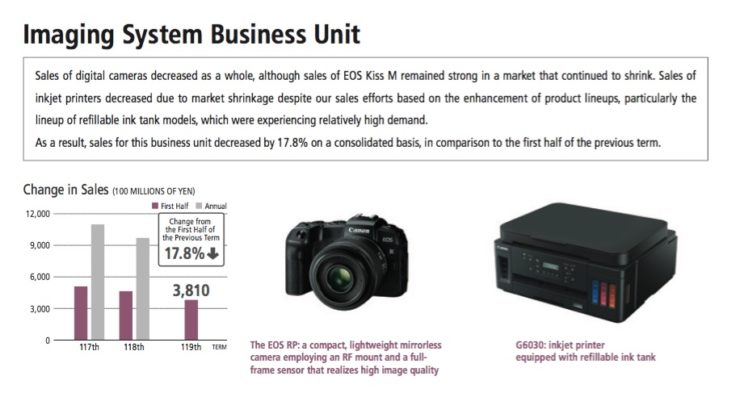 Canon released an interim financial report, covering the period from January 1, 2019 to June 30, 2019. Things don't look good for the Japanese manufacturer (though, I guess, it could be worse).
Chairman & Ceo Fujio Mitarai in his introduction to the interim report:
We are pleased to provide this overview of the first half (from January 1, 2019 to June 30, 2019) of our 119th Business Term.

The world economy in the first half of this term saw a slowdown in growth as a whole due to a deceleration in European economy and the effect of the lingering U.S.-China trade friction.

Under such conditions, corporate demand for office multifunction devices and laser printers stagnated, while the markets for digital cameras and inkjet printers continued to shrink. As a result, both Office Business Unit and Imaging System Business Unit experienced a decrease in sales. Sales of the Medical System Business Unit, which delivered strong sales results for computed tomography (CT) systems and other products in the Americas, increased. On the other hand, sales of the Industry and Others Business Unit, which includes semiconductor lithography equipment, decreased as customers continued to adjust their capital investment.

As a result of the above, on a consolidated basis, net sales for the first half of this term decreased by 10.0% year on year, while net income attributable to Canon Inc. decreased by 51.2% year on year. For the interim dividend, we decided to pay 80.00 yen per share, which is the same amount as the interim dividend for the previous term, from the perspective of ensuring stable returns to shareholders.

Although the business environment surrounding the Canon Group remains fluid, we will endeavor to improve our business results by further improving the competitiveness of our products and services not only in existing businesses, but also in steadily growing new businesses.
Below is the Canon financial interim report.