Canon RF 70-200mm f/2.8L IS Review (indispensable for professionals, D. Abbott)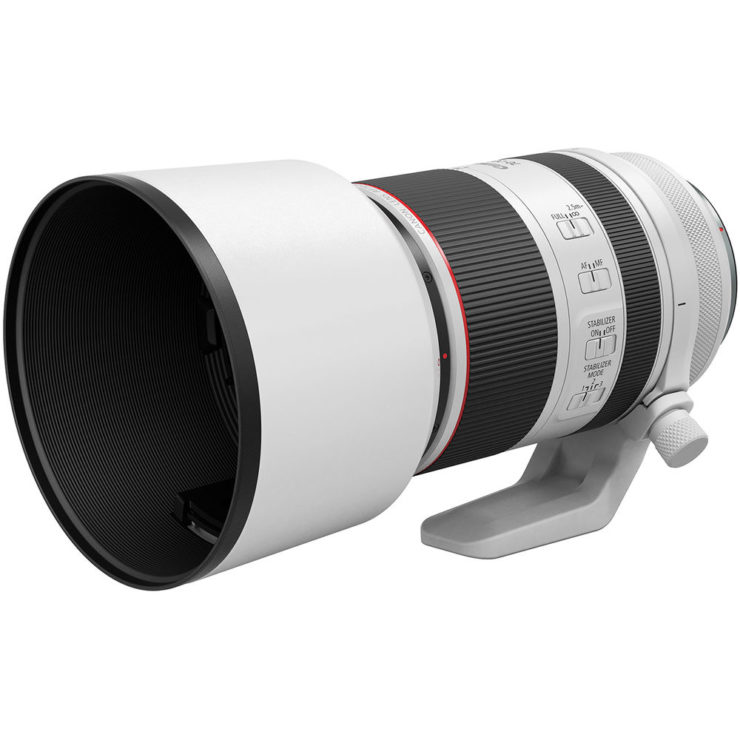 A Canon RF 70-200mm f/2.8L IS review by our favorite reviewer. Seems to be another great lens for the EOS R system, and not an inexpensive one.
Dustin Abbott posted his exhaustive Canon RF 70-200mm f/2.8L IS review. As usual the review comes with plenty of sample images, test charts, and answers all the questions you might have about this amazing lens. From the conclusion:
Canon was taking an innovative approach to the lens design. I love the 70-200mm F2.8 concept, but I haven't always loved the bulky package it comes in. The RF 70-200L traveled with me far more often during my review because of the more compact, flexible form factor, and that means it got used more often. I used it for video, for stills, and for tracking action. I took it to church, and on hikes, and to portrait sessions. There is a real value to be had in that, and I applaud Canon taking a chance and reimagining this lens.

I love the look and feel of images from the lens and loved using it. The stabilization is excellent, the autofocus is exceptional, and the weight and balance of the lens made it easy to use on my Canon EOS R5.

[…] this is what I would call an indispensable lens for a working professional or hard-core amateur, so sometimes you just have to have that little cry, bite the bullet, and lay down the money. Read the review at Dustin Abbott's site
For those who prefer to watch a gear review, check the video below.
The RF 70-200mm f/2.8K IS has been called the "first killer lens" for the EOS R. More Canon RF 70-200mm f/2.8L IS review stuff is listed here, and it's worth to have a look also to the teardown.
Canon RF 70-200mm f/2.8L IS: B&H Photo, Adorama, Amazon USA, Amazon Canada, Canon Canada, Canon USA
Key features and description:
RF-Mount Lens/Full-Frame Format
Aperture Range: f/2.8 to f/22
One Super UD Element, One UD Element
Two Aspherical Elements
Offering versatility and long reach in a notably sleek form factor, the Canon RF 70-200mm f/2.8L IS USM is a flexible telephoto zoom characterized by its bright design and advanced optics. The constant f/2.8 maximum aperture suits working in difficult lighting conditions and also enables greater control over depth of field. A sophisticated optical design comprises a series of specialized elements, which help to suppress a variety of aberrations throughout the zoom range for well-controlled imagery. An Air Sphere Coating has also been applied to suppress flare and ghosting when working in strong lighting conditions.
Balancing the distinguished optical assets is the Dual Nano USM focus system, which delivers fast, nearly silent autofocus performance with full-time manual focus override. An Image Stabilizer also compensates for up to five stops of camera shake to help produce sharper handheld shots in difficult lighting conditions. A unique Control Ring is also integrated into the lens design for intuitive control over exposure settings from the lens itself. Additionally, this 70-200mm is weather-sealed and has a fluorine coating to protect the front and rear elements.
Versatile telephoto zoom lens is designed for use with full-frame Canon RF-mount mirrorless cameras.
Bright f/2.8 constant maximum aperture maintains consistent illumination throughout the zoom range and suits working in low-light conditions as well as affords increased control over depth of field for working with selective focus techniques.
One UD (Ultra-Low Dispersion) element and one Super UD element help to minimize chromatic aberrations and color fringing in order to provide greater clarity and color accuracy.
Two aspherical elements are used to correct spherical aberrations and distortion for improved sharpness and accurate rendering.
An Air Sphere Coating (ASC) has been applied to lens elements to reduce backlit flaring and ghosting for maintained light transmission and high contrast in strong lighting conditions.
An Optical Image Stabilizer helps to minimize the appearance of camera shake by five stops to better enable working in low-light conditions and with slower shutter speeds. Three distinct IS modes are available: standard single-shot mode, a panning-optimized mode, and a mode that only activates the Image Stabilizer during the exposure.
Dual Nano USM system utilizes both a ring type USM and an STM mechanism to realize quick and accurate focusing that is also smooth and nearly silent to suit both photography and video applications. This focusing system also affords full-time manual focus control when working in the one-shot AF mode.
Configurable Control Ring can be used to adjust a variety of exposure settings, including aperture, ISO, and exposure compensation.
Protective fluorine coating has been applied to the front and rear element to resist fingerprints and smudges and to make cleaning these elements significantly easier.
As a member of the esteemed L-series, this lens has a weather-resistant design that protects against dust and moisture to enable its use in inclement conditions.
Rounded nine-blade diaphragm contributes to a pleasing bokeh quality.
Removable rotating tripod collar is included and benefits working with the lens atop a tripod or monopod.