Canon RF 85mm f/1.2 DS Review – Next Level Wow Bokeh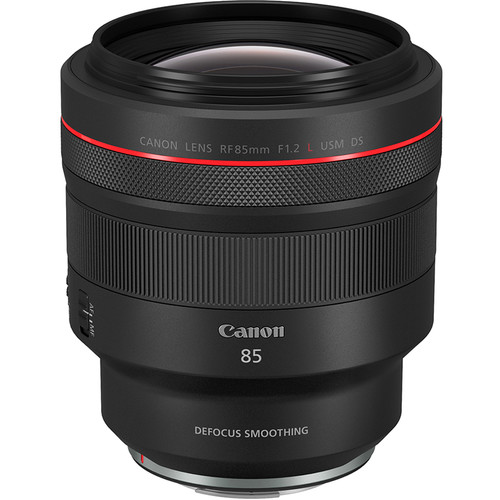 Here is a Canon RF 85mm f/1.2 DS review by YouTuber Artaius.
If you wonder what the "DS" stands for it's for "Defocus Smoothing", an optical technology exclusive to Canon. As you might already have figured out, Defocus Smoothing is about blurring out the background, getting a nice bokeh effect, and everything creative you can do with out-of-focus items. Another boutique lens for the Canon EOS R full frame mirrorless system.
Says Artaius:
The Canon RF 85mm f/1.2L DS (Defocus Smoothing) is the closest Canon will ever get to making a Lensbaby lens – its bokeh is just next-level wow. The question is, will it replace the standard RF 85mm f/1.2 as my favorite lens for the Canon EOS R? I put them through some side-by-side shooting comparisons to show you exactly how unique the bokeh is on this lens, and to help you decide whether it's worth that 3K price tag. If you want to know the difference between the two lenses, this Canon RF 85mm f/1.2 DS review is for you!
And here is the Canon RF 85mm f/1.2 DS review video:
Unfortunately this optical marvel is not an inexpensive lens: it sells for $3,000.
Canon RF 85mm f/1.2L DS: Amazon DE, Amazon UK, Amazon IT, Wex Photo Video, Canon DE, Canon UK
Key Features
RF-Mount Lens/Full-Frame Format
Aperture Range: f/1.2 to f/16
Defocus Smoothing Coating for Soft Bokeh
Blue Spectrum Refractive Optics Element
Prioritizing bokeh, the Canon RF 85mm f/1.2L USM DS is a unique portrait-length prime, characterized by its flattering focal length, exceptionally bright maximum aperture, and advanced optical design. Differentiating itself from Canon's other RF 85mm f/1.2 lens, this version features a DS (Defocus Smoothing) coating that helps to soften and smooth the bokeh quality when working at wider aperture settings, making it particularly suitable for shallow depth of field applications.
Beyond the bokeh-optimized design, the optical layout of this lens incorporates a Blue Spectrum Refractive Optics element; a specially developed element that helps to nearly eliminate chromatic aberrations and color fringing for notable clarity and color accuracy. In addition to this, an ultra-low dispersion element and one aspherical element are also featured to further control various aberrations and distortion for great sharpness and resolution. Individual elements also feature an Air Sphere Coating to suppress flare and ghosting for high contrast and color fidelity when working in bright and backlit conditions.