Canon Rumor: A New High End, High Resolution EOS DSLR With Hybrid Viewfinder (named EOS-A1?)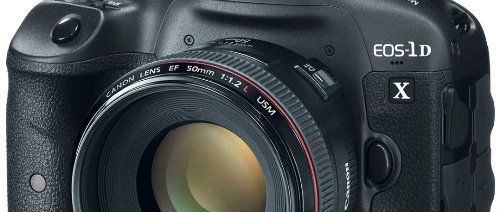 I am getting lots of rumors about Canon's future plans and projects these days, and while I will not post anything because either I do not have a double confirmation or what I am told is simply not credible, I decided to post what follows because it came from two sources. However: This comes from new sources so let's take it with a good grain of salt.
I have been told (thanks) that Canon will announce a new high end EOS DSLR in 2014, a DSLR with a big megapixel count, possibly the high resolution Canon camera that is rumored since a while. This camera is not going to replace existing models, it is a new entry in Canon's line-up
The rumored DSLR is said to have a megapixel count that matches the highest resolution sensors out there (but no word about the actual resolution). The DSLR is optimized for the best possible still and video performance, video is said to be the best ever seen on a DSLR (better than the EOS-1D C?). And this one rocks: the camera is said to have a hybrid viewfinder, i.e. it combines optical viewfinder and electronic viewfinder. The electronic viewfinder would be for video (according to the sources). No word if we are talking about an APS-C or a full-frame sensor.
Finally, I have been told a name for the camera: EOS-A1, but one of the source wasn't sure if the name refers to a prototype or to the final model. The DSLR is said to be announced in 2014.
I give this rumour a 30-35%% chance to be true. I write 30-35% because I received notifications that "something big is coming from Canon" (quoting a source) from various sources, and the rumour here reported fits into that.
It is getting chaotic with Canon rumors since a few weeks, with lots of rumors often contradicting previous rumors and predictions. The latest EOS 7D Mark II rumor is the best example: after all the rumors about the (supposedly) upcoming EOS 7D Mark II we were told that there will be no EOS 7D Mark II. Instead, according to another rumor that followed, there will be a new APS-C flagship, but it will not be called "EOS 7D Mark II". I will (hopefully) soon have more to tell about that. Stay tuned.
I appreciate your thoughts about this rumor, so let me know in the comment section if you like.