Canon showcases a world of new possibilities at IBC 2015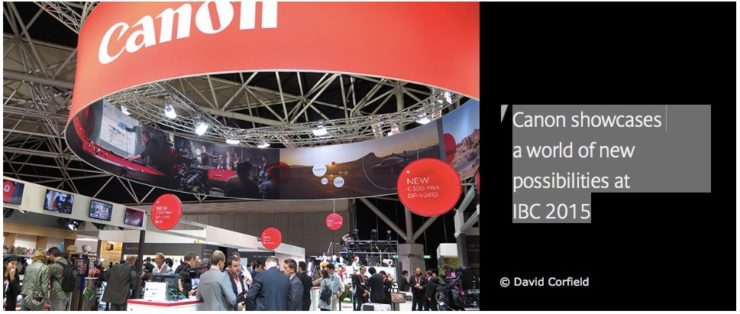 Canon showcases a world of new possibilities at IBC 2015
The International Broadcasting Convention (IBC) show held at the RAI conference and exhibition centre in Amsterdam, The Netherlands, from 11-15 September, was packed with broadcast and filmmaking technology and Canon really made its presence felt with its 4K HDR workflow, groundbreaking 4 million ISO camera, new 4K broadcast lenses and much more, as CPN Editor David Corfield discovered… 
Canon's commitment to its various industry partners was highly visible at this year's IBC Show and workflow was the central theme on a newly-designed stand which reflected its 'Come and See' message.
Wider aisles and better access to 'touch and try' equipment along with shooting and grading zones featuring Canon products used by third parties allowed visitors to really see a wide variety of technical advances. The new ME20F-SH Full HD low-light video camera, which was being demonstrated in a special darkened room, also got everyone buzzing with its incredible ISO 4 million capability and proved to be a star attraction.
Speaking to CPN, Mark Fensome, European Marketing Specialist – Pro Video, BCTV and Displays, said: "The star here for Canon has to be the synergy between the C300 Mark II and the DP-V2410 reference monitor, both supporting high dynamic range output and being demonstrated in several places around the stand. Each are linked by just one 3G/HD-SDI cable highlighting the compact and cost efficient on-set capability of this configuration, avoiding the need for separate debayering devices, waveform monitors, LUT boxes, and more."
"Additionally, the XC10 also proved to be very popular at the show, generating interest from not just video journalists, but broadcasters and content producers too."
He continued: "Our stand has been really busy with lots of people showing an interest in not just the technical side of things but also how they can work closely with Canon. We remain very competitive against some strong competition but our advances in sensor and display technology, especially in the light of the recent announcement where we revealed that an 8K Cinema EOS camera and 8K HDR reference monitor are in development, is keeping Canon at the forefront of the broadcasting industry."
"Another little star this year has been the XF205 camcorder," he revealed. "With a new firmware update now permitting IP streaming, a lot of people have been keen to see how this functionality works in a small low-cost compact unit. Again, we were able to demonstrate this at IBC."
CEMENTING LINKS WITH INDUSTRY PARTNERS
Without a doubt, the exceptional ME20F-SH video camera and its low-light ability of the was one of the Canon stand's biggest attractions, but Canon's range of 4K Cine lenses – the CN20X 50 IAS H E1/P1 (with its impressive 50-1000mm focal length) and the hugely versatile CN7X17 KAS S – were also getting lots of interest. Mounted onto a variety of third-party cameras, visitors to the Canon stand were able to try these lenses out for themselves and discover their full focus and zoom capabilities.
"The full potential of the C300 Mark II and the output you can get from it when mated to a Cine lens, was also demonstrated at IBC," Mark Fensome explained. "Luckily, for IBC, we were able to get our hands on Canon's 2000 Nit prototype 4K reference display to really show off what the C300 Mark II can achieve, showing the 'Trick Shot' movie in all its glory. That synergy between camera, lens, and output has been proven with a shooting zone replicating the movie that was made with the camera."
"Our industry partnerships have also been highly profiled. Spanish post-production experts SGO have demonstrated, for the first time this year on our stand, its grading station using Canon 4K reference displays. With some pioneering advancements in HDR technology, a state-of-the-art Mistika system (the world's most advanced Hero Suite providing editing, VFX, colour grading, text, paint, audio, S3D, full finishing, and more) driving an end-to-end HDR 4K colour-process workflow, it was a very popular part of the stand with people several deep at times keen to take a closer look."
OUT IN THE FIELD
New to IBC this year were 4K versions of Canon's legendary box lenses. Making their IBC show debut were the UJ86x9.3B (UHD-DIGISUPER 86), its flagship premium 4K field lens and the UJ90x9B (UHD-DIGISUPER 90), a standard 4K field optic. "The 86x lens is actually more than 4K quality," said Kuniaki Iijima, Canon Europe, EMEA broadcast products director, a point that was being made throughout the show. The UHD DIGISUPER 86 (UJ86x9.3B) and UHD DIGISUPER 90 (UJ90x9B) are part of Canon's evolving 2/3" 4K lens line-up and join the recently launched CJ12ex4.3B in the range. Both provide professionals with the freedom to shoot live broadcast or sport events in stunning 4K quality, and in a first for Canon's 2/3" lens line-up, the UHD DIGISUPER 86 (UJ86x9.3B) offers resolving power beyond 4K. Canon also revealed the development of a multi-purpose lens, emphasising its continued commitment to the broadcast industry.
"The UHD-DIGISUPER 86 is the initial offering in the Premium 4K class and is the flagship of Canon's 4K field lens family," he continued. "The design of this lens sought the highest possible overall optical performance to help ensure performance in excess of 4K throughout all lens settings. The design of its companion, the UHD-DIGISUPER 90 lens, is based upon the design criteria of our HDTV field lenses – by providing 4K performance in a smaller body while offering a wider focal range."
LEGENDARY CAMCORDER STILL PROVING POPULAR
Now in its fifth year of production, the hugely popular XF305 (one of Canon's first file-based professional camcorders combining an MPEG-2, 50Mbps, 4:2:2 codec with a Canon L-series lens and 3 Full HD CMOS sensors for HD video on CF card) was on display with Canon Europe's professional video specialist, Paul Atkinson, who remarked on its sustained popularity. "People keep on coming back to this camcorder for a reason. And that reason is simple: it just works; it is built incredibly well and can take an enormous amount of punishment and the quality – thanks to the combination of L-series lens and 3 CMOS sensors – keeps it in the frontline of news gathering."
HERALDING A NEW ERA
Canon's recent announcement of an 8K Cinema EOS camera and an 8K display was an indication of what to expect over the next few years. With high-resolution workflow being one of Canon's primary remits – thanks to strong relationships with third parties built up over the last 30 years – the future of Canon broadcast and filmmaking technologies is seemingly assured. "This year has been a really good IBC for us," concluded Richard Shepherd, Canon Europe's Pro Imaging Marketing Manager. "We came to the show determined to demonstrate not only our strong relationships with the industry and the many relationships we have with third-party suppliers, but to highlight the continued development of 4K and Full HD technologies and the pushing forward of technical boundaries. That is what makes this business so exciting and Canon is proud to be a key player in it."