Canon Sustainability Report 2014 Published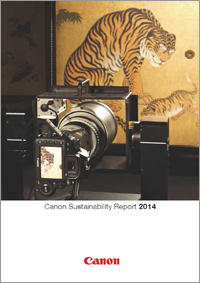 Canon published their Canon Sustainability Report 2014.
Notice regarding the publication of Canon Sustainability Report 2014
Canon Inc. is pleased to announce that it has published Canon Sustainability Report 2014, which introduces various activities carried out by the Canon Group in 2013.
The Canon Group promotes its CSR activities in line with the basic policy of contributing to the realization of a better society as a good corporate citizen, effectively leveraging the company's advanced technological strengths, global business deployment and diverse, specialized human resources.
This year's report highlights the company's initiatives aimed at reducing CO2 emissions throughout the product lifecycle along with examples of Canon products contributing to society in such categories as medical equipment, network cameras and mixed reality. It also presents Canon's support for local communities hardest hit by the Great East Japan Earthquake through the Tsuzuri Project, which promotes the preservation and practical use of precious cultural assets, and introduces activities being carried out by Canon Wind, a special subsidiary, to expand job opportunities for persons with disabilities. Additionally, targeting improved reliability and objectivity, the report includes a third-party verification on the Canon Group's greenhouse gas emissions.
Aiming to become a corporate group that keeps growing together with communities and society, Canon will continue pursuing CSR initiatives in accordance with the needs of each country and region.
Canon Sustainability Report 2014 is now available for download from the Canon CSR website in a PDF format. Separate PDF files are also available by individual topic.
Note: Canon Sustainability Report 2014 is not available in printed booklet form.