Canon U.S.A and Arbor Day Foundation Continue Partnership with Canon's support of the Foundation's "Replanting Our Forests" Program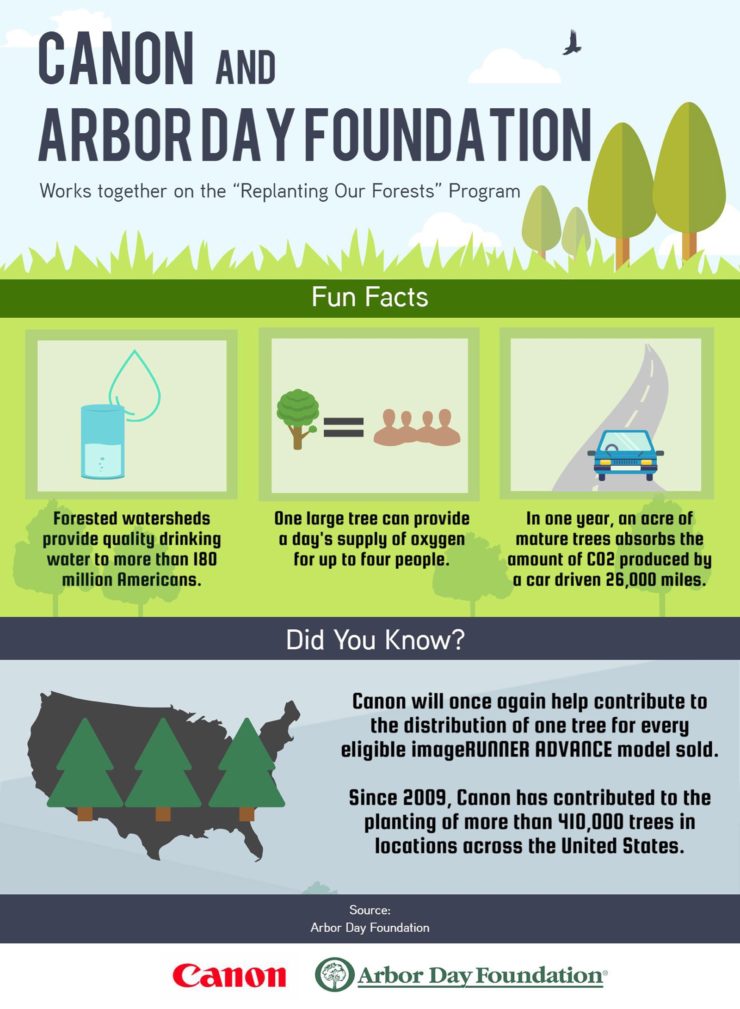 Canon U.S.A and Arbor Day Foundation Continue Partnership with Canon's support of the Foundation's "Replanting Our Forests" Program
Over 410,000 trees planted and distributed since 2009 thru Canon's support
MELVILLE, N.Y., April 27, 2017 – Thousands of intense fires, insect infestations, disease and severe weather have all take their toll on forests around the nation. Canon U.S.A. Inc., a leader in digital imaging solutions and the Arbor Day Foundation will be contributing to the planting of up to 50,000 trees in areas which have been impacted by significant disasters through the "Replanting Our Forests" Program. Canon has helped contribute to the planting and distribution of more than 410,000 trees in locations across the United States since 2009.
Through this year's program, Canon will help contribute to the planting of one tree for every eligible imageRUNNER ADVANCE multifunction system sold from April 1, 2017 to December 31, 2017, or until the maximum goal of 50,000 trees to the Arbor Day Foundation's "Replanting Our Forests" program is reached, whichever occurs sooner. Watch as the tree-shaped chart progresses toward the goal.
"Each year we continue our relationship with the Arbor Day Foundation, we are able to see firsthand the importance of environmental sustainability and the importance of engaging with communities across the country," said Toyotsugu Kuwamura, executive vice president and general manager, Business Imaging Solutions Group, Canon U.S.A., Inc. "We are very proud to continue to work together with the Arbor Day Foundation to help achieve a mutual goal to revitalize forests across the country to ensure that they live on for future generations."
Reforestation Initiatives
The Arbor Day Foundation has reforestation initiatives across the country to rebuild forest areas that are in desperate need of regrowth. This year, active replanting efforts are taking place in thirty five forests across twenty three states. Canon's support will help to plant trees on Tate's Hell State Forest in Florida as part of their landscape management to hold soil structure, filter sediment, and dampen strong rain events that are part of damaging Gulf weather patterns. Trees will also be planted on Webb Tract, an impaired watershed in Illinois.
"Having Canon as a corporate partner has continued to be a major benefit to the 'Replanting our Forests' program and we want to thank them for their ongoing support," said Dan Lambe, president, Arbor Day Foundation. "Their contributions can be seen in revitalized forests, neighborhoods and communities that until recently had lost the benefits that trees bring to their lives and environments."
The Kyosei Philosophy
Canon continues to be dedicated to its philosophy of Kyosei, displaying an on-going commitment to social and environmental responsibility. Through Kyosei, Canon seeks to achieve its goals of energy and resource conservation, as well as reducing environmentally hazardous materials used in its products. Canon shares this philosophy through various environmental, conservation, recycling and sustainability initiatives.
For more information about the communities that the Community Tree Recovery Program supports, visit: www.arborday.org/takeaction/community-tree-recovery/.
About Arbor Day Foundation
Arbor Day Foundation is a million member nonprofit conservation and education organization with the mission to inspire people to plant, nurture and celebrate trees. More information is available at arborday.org.
About Canon U.S.A., Inc.
Canon U.S.A., Inc., is a leading provider of consumer, business-to-business, and industrial digital imaging solutions to the United States and to Latin America and the Caribbean markets. With approximately $29 billion in global revenue, its parent company, Canon Inc. (NYSE:CAJ), ranks third overall in U.S. patents granted in 2016.† Canon U.S.A. is committed to the highest level of customer satisfaction and loyalty, providing 100 percent U.S.-based consumer service and support for all of the products it distributes in the United States. Canon U.S.A. is dedicated to its Kyosei philosophy of social and environmental responsibility. In 2014, the Canon Americas Headquarters secured LEED® Gold certification, a recognition for the design, construction, operations and maintenance of high-performance green buildings. To keep apprised of the latest news from Canon U.S.A., sign up for the Company's RSS news feed by visiting www.usa.canon.com/rss and follow us on Twitter @CanonUSA. For media inquiries, please contact pr@cusa.canon.com.
# # #
†Based on weekly patent counts issued by United States Patent and Trademark Office.