Canon W-E1 WiFi adapter specifications and compatibility list leaked (7D2, 5Ds, 5Ds R) [CW5]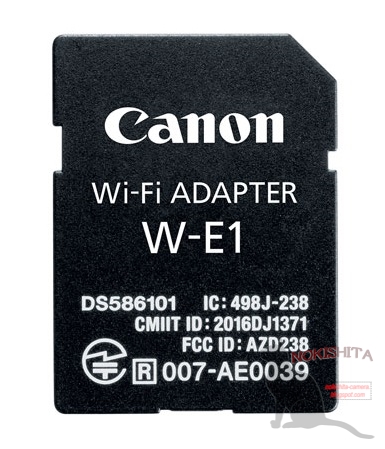 More tidbits about the upcoming Canon W-E1 WiFi adapter leaked at Nokishita Camera.
The Canon W-E1 will be compatible with the EOS 7D Mark II, EOS 5Ds and EOS 5Ds R. The W-E1 is adapter is used in a SD slot, and when it is in use the CF card is required to store pictures (the compatible cameras have two memory card slots)
SD card-type Wi-Fi adapter

Compatible models

EOS 7D Mark II

EOS 5DS

EOS 5DS R

CF card is required when using the Wi-Fi function

Wireless standards: IEEE 802.11b / g / n

Communication range: abut 10 m

Size: 24.0 x 32.0 x 2.1 mm

Weight: about 2 g
[via
Nokishita Camera
]
---
Are you going to buy the Canon EOS 5D Mark IV?
Yes! (47%, 2,322 Votes)
No! (30%, 1,471 Votes)
Not sure (23%, 1,145 Votes)
Total Voters: 4,938

Loading ...
August 25/26 announcement information
The EOS 5D Mark IV will start shipping in the mid of September 2016. Launch price should be €3,799 in Europe and $3,299 in the USA. Please note that I am not 100% sure about the US price, could also be $3,499. Maybe $3,499 is more likely.
No price hint We know the price for the EF 24-105mm f/4L IS II USM ($1,099) and EF 16-35mm f/2.8L III USM ($2,199) lenses. The EF 24-105mm will most likely start to ship with the EOS 5D Mark IV (it's a new kit option), while the EF 16-35mm may be seen a bit later, probably in October.
The following gear (and new EOS 7D Mark II kits) will be announced to the world on August 25/26:
EOS 5D Mark IV body

EOS 5D Mark IV + 24-70 lens kit

EOS 5D Mark IV + 24-105 lens kit

7D Mark II + 18-135 USM lens kit

7D Mark II + W-E1
Have you heard about Dual Pixel RAW on the EOS 5D Mark Iv and what it can do?
Canon EOS 5D Mark IV's Dual Pixel RAW is for focus adjustment in postprocessing (new image and more detailed specs leaked) – updated with patent