Canon's Océ Arizona Flatbed Printers Earn Prestigious Awards at Recent Industry Events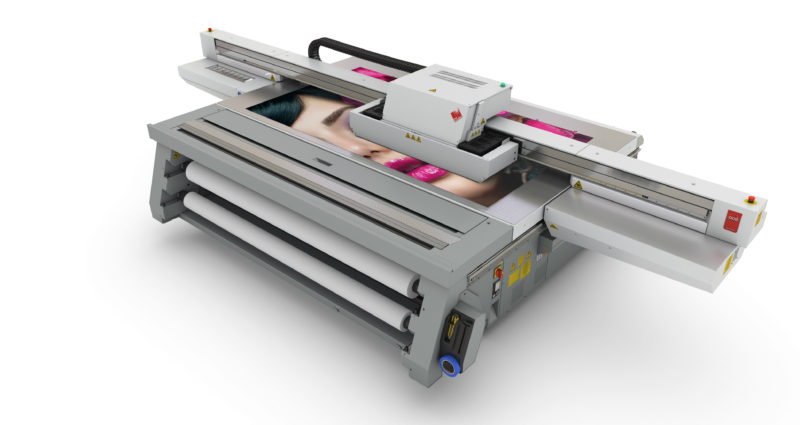 Canon press release:
Both the Océ Arizona 1280 and 2280 models recognized at SGIA Expo and GRAPH EXPO
MELVILLE, N.Y., October 20, 2016 – Canon U.S.A., Inc., a leader in digital imaging solutions, today announced that two Océ Arizona series printer models received the Specialty Graphic & Imaging Association (SGIA) Product of the Year Award. The prestigious honor, presented during the 2016 SGIA Expo, preceded the Océ Arizona 1280 XT's recent recognition by Printing News in their 2016 Readers' Choice Top Product Awards, in the Output Device: Wide-Format Flatbed Inkjet Printers (24-inches +) category.
The Océ Arizona series printers won in the following SGIA categories:
SGIA 2016 Product of the Year for UV Flatbed + White \\$100-200k: Océ Arizona 1280 GT
SGIA 2016 Product of the Year for UV Flatbed + White \\$200-500k: Océ Arizona 2280 XT
"I am very proud of the Canon large format team," said Toyotsugu Kuwamura, executive vice president and general manager, Business Imaging Solutions Group, Canon U.S.A., Inc. "Our equipment was compared to some of the best in the world; to come out as winners amongst such strong competition is a real honor. This achievement speaks to our commitment to advancing the large format industry and continuing to help our customers grow with best-in-class products."
The 2016 SGIA competition judged submissions across 19 categories for output devices and 29 categories for non-output devices. Conducted during the 2016 SGIA Expo (Las Vegas, September 14–16, 2016), this year's event was one of the largest in its history, boasting over 23,000 pre-registrants. The selection of the Océ Arizona 1280 GT and 2280 XT as Product of the Year winners marks the tenth year in a row that an Océ Arizona Series printer has been honored with this award since the product line began shipping in 2007.
Printing News Recognition
Presented during GRAPH EXPO, the Printing News Readers' Choice Top Products Awards feature the innovative products that have caused the most excitement in the industry and have been a valuable asset to commercial print businesses over the last year. This year's much-lauded recognition once again cements the importance of the Océ Arizona Series and its profound impact on the large format industry.
New to the Arizona family
Launched earlier this year, the Océ Arizona 1200 Series was designed for print service providers (PSPs) that require superb print quality, application versatility and ease-of-use. The Océ Arizona 1240, 1260 and 1280 models continue to add substantial value to businesses in the sign and display industry, specialty print producers, reprographers and photo labs.
Also released in 2016, the Océ Arizona 2200 Series of UV flatbed printers was designed to address the demand for increased capacity and versatility without compromising on print quality. The Océ Arizona 2260 and 2280 enable PSPs to capitalize on new market opportunities and explore a wider range of applications.
Expect excellence
All Océ Arizona series UV flatbed printers share the same award-winning image quality and robust architecture, offering the Canon values of quality, reliability, productivity, and user-friendliness. Since 2006, Océ Arizona series UV flatbed printers have earned close to 50 industry awards from organizations throughout the world, validating its excellence and innovation. Nearly 6,000 systems have been sold to date worldwide, placing this series at the forefront of the UV flatbed printer market.
About Canon U.S.A., Inc.
Canon U.S.A., Inc., is a leading provider of consumer, business-to-business, and industrial digital imaging solutions to the United States and to Latin America and the Caribbean (excluding Mexico) markets. With approximately $31 billion in global revenue, its parent company, Canon Inc. (NYSE:CAJ), ranks third overall in U.S. patents granted in 2015† and is one of Fortune Magazine's World's Most Admired Companies in 2016. Canon U.S.A. is committed to the highest level of customer satisfaction and loyalty, providing 100 percent U.S.-based consumer service and support for all of the products it distributes. Canon U.S.A. is dedicated to its Kyosei philosophy of social and environmental responsibility. In 2014, the Canon Americas Headquarters secured LEED® Gold certification, a recognition for the design, construction, operations and maintenance of high-performance green buildings. To keep apprised of the latest news from Canon U.S.A., sign up for the Company's RSS news feed by visiting www.usa.canon.com/rss and follow us on Twitter @CanonUSA. For media inquiries, please contact pr@cusa.canon.com.
#  #  #
† Based on weekly patent counts issued by United States Patent and Trademark Office.
All referenced product names, and other marks, are trademarks of their respective owners.