More PowerShot G15 (price & specs) reviews, both detailed and exhaustive, and with lots of sample pictures. Photographyblog writes:
The new Canon PowerShot G15 is the most well-balanced G-series camera to date. It may not offer the admittedly more versatile articulating screen of its predecessor, the G12, or the DSLR-like image quality of its big brother, the G1 X, but the combination of greater portability, faster lens, higher-resolution screen and smaller size is a winning one.
Cameralabs says:
[…] the G15 still has plenty to offer. Its bright f1.8-2.8 lens combined with excellent optical image stabilisation not only provides it with great low light performance, the 1cm close focus distance at the wide angle setting together with it's ability to focus reasonably close when zoomed in, makes it possible to achieve a fairly shallow depth of field on macros and portraits, something that's often proved elusive on small sensor cameras. The abundance of physical controls will continue to endear it to enthusiasts and while dropping the articulated screen may not meet with universal approval, for me, the more compact lightweight form that results is well worth the sacrifice.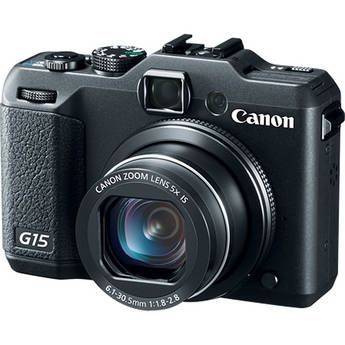 Canon PowerShot G15 price check: B&H Photo, Adorama, Amazon USA, Amazon CA, KEH Camera, BestBuy, Canon CA, Canon USA