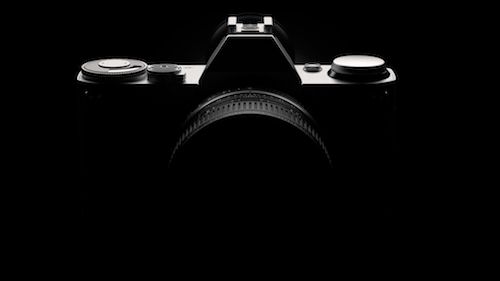 For the time being Canon is the only major brand that still did not jump on the mirrorless bandwagon (at least not for a ILC – Interchangeable Lens Camera). The closest thing to a mirrorless camera that Canon made is the G1 X. Even Nikon did its thing with the Nikon V1. While we are all eagerly waiting for Canon to announce a true mirrorless system camera (and I am almost sure we will see something in September at Photokina 2012), David Riesenberg, a designer, has come up with an interesting mock-up made using CAD-software. D. Riesenberg called its concept AE-D, clearly having in mind Canon's AE cams of the seventies. In his own words:
Like many others, I too have been waiting for quite a while for Canon to release its mirrorless system. There are speculations and indications that they may very well do so this year, but I personally grew a bit restless. Because of this, I decided to put to paper, or rather to CAD and rendering software, my vision of such camera. After about a month of learning, debating, modeling and rendering, the Canon AE-D came to life.
As you can see in the following pictures, the concept has a old-fashioned looking design that is somewhat resembling the Olympus E-M5 (it seems that retro-style aesthetics paired with up to date technology is the big thing for a lot of people).
David Riesenberg's thoughts on his concept:
The design is inspired by the classic AE and AE-P which are two of my favorite Canon cameras ever. Simple, iconic, timeless. I couldn't think of a better basis for a modern mirrorless system.
Some of the main features and the reasoning behind them are:
Full Frame – Might as well be the pinnacle of 35mm. Especially if a new lens mount is required. Future proof.
18.1MP sensor from the 1DX – This camera will not rob sales from the 1DX on form factor alone so it makes sense to use an existing sensor instead of a new one. Plus, it will make an excellent pair to someone with an 1DX.
The next picture shows the same concept without the viewfinder.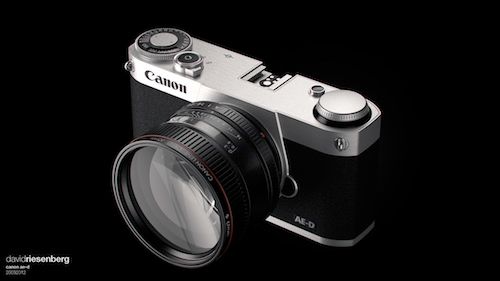 D. Riesenberg about the EVF:
Viewfinder – Design wise, I knew from the start that I wanted to incorporate the prism hump of the AE cameras. It is a prominent feature that without it, the context of the design gets somewhat lost. At the same time, it is obviously not a technical requirement in mirrorless cameras so making it detachable while housing the EVF felt like the the optimal combination of form and function. After all, if this is a camera for photographers, a viewfinder, even if electronic, is a must.
There are some considerations to make. Besides competing with the Nikon V1, a Canon mirrorless camera sporting a full-frame sensor would compete with the Leica M9 (which, besides being a $7000 toy, for the time being is the smallest mirrorless full-frame system camera you can get). The other big competitor would be the Fujifilm X Pro1, especially because the interesting price tag and its well known IQ (using an APS-C sensor).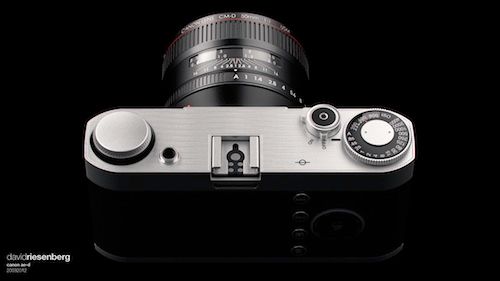 Read the original article clicking here.
We can only hope that Canon got the message :-). In the meantime you can have a look at the G1 X, the closest thing resembling a ILC (Interchangeable Lens Camera) Canon has made so far. Or you can have a look to the latest images shot with a G1 X that have been uploaded to Flickr (click here). Canon G1 X price check B&H Photo, Adorama, Amazon USA, Amazon Canada, Canon Canada, Canon USA.
Check the following boxes (our eBay live-ticker) for possible deals regarding the cameras mentioned in this post.
Canon G1 X:

Leica M9:

Olympus E-M5:

Nikon V1:

Fujifilm X-Pro 1:

[shariff]