Chuck Westfall About the Canon EOS 5DS and EOS 5DS R (no DR improvement over 5D3, sensor is made by Canon)
The video above is an interview DPReview conducted with Canon's Chuck Westfall, the talk is about the new Canon EOS 5DS and EOS 5DS R. In the interview Mr. Westfall says the 5DS and 5DS R have no improvement in dynamic range over the EOS 5D Mark III.
There is more. Chuck Westfall was also interviewed by the folks at Shutterbug. With the EOS 5DS and EOS 5DS R…
[Canon is] actually competing against the medium format camera backs but in the 35mm format this is much smaller, more compact and with a greater access to lenses
Asked who made the sensor in Canon's high resolution DSLRs:
Westfall said the 50.6MP CMOS sensors in the 5DS and 5DS R are developed and produced by Canon. When asked whether they were created in collaboration with Sony as some rumors indicated, Westfall responded by saying: "Absolutely not. The sensors were developed completely in-house, by Canon
This should put an end to the rumor suggesting Canon may use sensors manufactured by Sony on their future DSLR.
Here are the first previews and hands-on (and some technical introduction) of the world's highest resolution full-frame DSLR, Canon's new EOS 5DS and EOS 5DS R, and products promo videos of Canon's new megapixel champion (official announcement, first impression, hands-on videos, and more).
Canon Japan's EOS 5DS image and video samples and EOS 5DS R image samples. More hands-on: EOS 5DS and 5DS R preview at Photography Blog, hands-on and sample pics at ephotozine, preview at DPReview, CPN Europe Article, The Digital Picture. A tip about which lenses are best for the EOS 5DS at The Phoblographer. A more technical and in-depth article by CPN. First impression from the videographer's point of view at EOSHD. Fotosidan interview with Mike Burnhill at CPS, Canon Europe to talk about the upcoming, high resolution Canon Eos 5Ds and 5Ds R (12min video)
Pre-orders. Note: pre-orders are not yet open. Sign up to be notified when Adorama starts accepting pre-orders, or check the links below.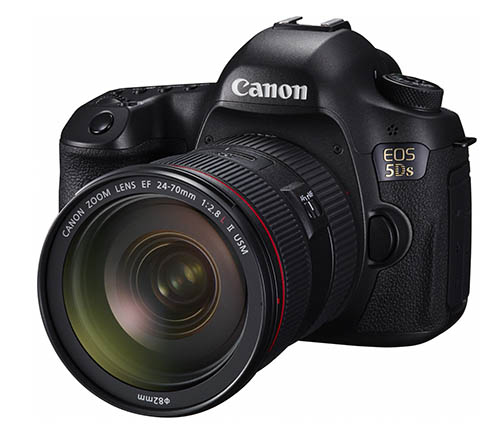 NOTE: click here for an overview of all the products Canon announced today.
[via
PR
]