Comparison: G1X vs 7D – Surprising!
I found an interesting post on dpinterface with an in-depth image comparison between Canon's G1 X and EOS 7D – two players in different leagues. Lets first see the basic tech specs for both cams:
18.0 Megapixels
3.0″ LCD
HD Video Recording
Selectable Video Exposure + Frame Rates
Dust & Weather Resistant
100% Viewfinder
Self Cleaning Sensor
High Sensitivity (ISO 12800)
8fps Burst Mode
14.3Mp 1.5″ CMOS Sensor
3.0″ Vari-Angle LCD Screen
28mm Wide Lens with 4x Optical Zoom
DIGIC 5 Image Processor
Hybrid Image Stabilizer
Optical Viewfinder
12,800 ISO
1080p Full HD Video
High Dynamic Range Scene Mode
Manual & Numerous Other Shooting Modes
 The next chart illustrates the respective sensor sizes: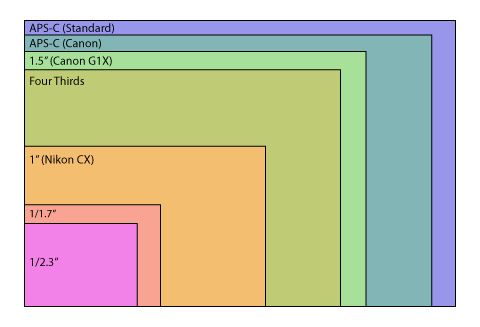 Definitely gear aimed at different using-scenarios. Another thing to keep in mind is the difference in aspect ratio of the sensors (G1X 4:3, 7D 3:2).  The lens used on the EOS 7D was the Canon EF 24-70 mm f2.8L USM. So we have a 14MP sensor against a 18MP one, which is also 27% larger than the one mounted on the Powershot G1 X. The comparison in summa:
Dynamic range: very close
Detail level: 7D clear winner (no wonder: bigger sensor, higher resolution, and – to some matter – an L lens)
High ISO noise: not really comparable since on the 7D noise reduction was disabled, which is not possible on the G1 X (NR set to standard). However, high ISO noise is very good on the G1 X. Would have been better to do this comparison using RAW files.
The conclusion:
The Canon PowerShot G1X actually produces image quality that is very close to that of the Canon EOS 7D; not identical but very similar. The Canon G1X produces photos with, overall, better out-of-the-camera sharpness but less color saturation and slightly less detail, though the difference isn't really obvious unless you inspect really fine detail as shown in the examples above. Even that can be overcome by shooting in RAW or tweaking the camera's settings to increase saturation and sharpness.

The PowerShot G1X definitely outperforms other prosumer models and compact cameras of its class thanks to its premium larger-than-average image sensor. If you want a relatively compact (though the camera will not fit in your pants pocket at all!) camera that delivers digital SLR or ILC level image quality without the hassle of something the size of an actual SLR, consider taking a look at the Canon PowerShot G1X.
Read the post here.
Hold one, there is more. The same guys did also a comparison between the video modes of the Powershot G1 X and the EOS 7D. The Powershot G1 X comes with 1080 full HD, stereo recording, 24 fps (720p standard HD and VGA give you 30 fps). The EOS 7D comes with 1080 full HD, mono recording, 24 or 30 fps at 1080p. Ok, let's go with the videos, first the one shot with the Powershot G1X.

Next, the video made with the EOS 7D (1080p at 30fps).

All in all, the Powershot G1 X doesn't stay that much behind the EOS 7D. Read the post here.
Finally, we have the usual services for you.
If you want to see some Powershot G1 X samples click here, for EOS 7D samples click here. This is an automatic service retrieving the latest pics uploaded to Flickr.
EOS 7D price check (click on the shop name): B&H Photo, Adorama, Amazon USA, Amazon Canada, Canon Canada, Canon USA Powershot G1 X price check (click on the shop name): B&H Photo, Adorama, Amazon USA, Amazon Canada, Canon Canada, Canon USA
The next two boxes are based on our eBay live-ticker with selected deals. Check them to see if you find what you are looking for.
EOS 7D eBay live-ticker:

Powershot G1 X eBay live-ticker:

Have a nice day wherever you are…
:-)
[shariff]