Developers Of Canon EF 400mm f/2.8L IS III and EF 600mm f/4L IS III Lenses Interviewed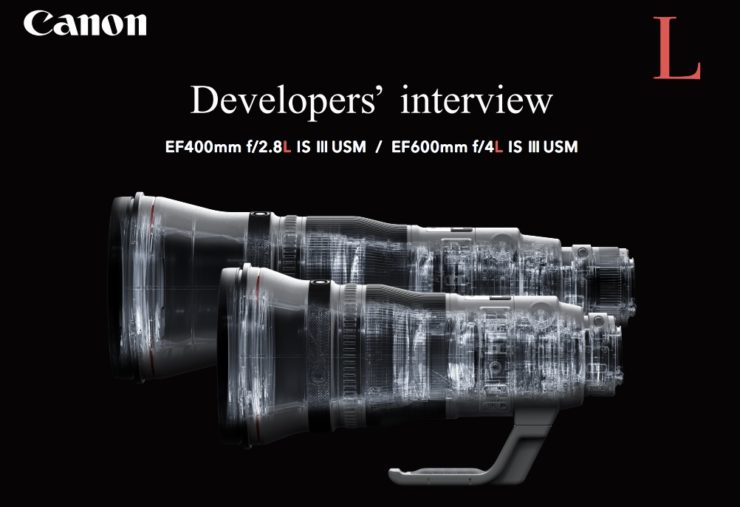 Canon posted an interview with the engineers who designed and developed the Canon EF 400mm f/2.8L IS III and Canon EF 600mm f/4L IS III telephoto lenses.
The interview is available as a PDF and you can see it here.
An excerpt:
Interviewer: Please tell me about the background, design policy, and your enthusiasm at the start of development.

Nagao (Development Leader): Pro photography situations require the ability to capture split-second, one-of-a-kind moments in high quality. I accompanied pro photographers as they shot, and I noticed how many times that they were all packed into a tight space while tracking a subject. In order to capture such photo opportunities, I realized just how important it is to have a piece of equipment that feels like a part of you and that can be manipulated with complete ease in such tense shooting situations. We then started research from the question of "what should the pinnacle of next-generation lenses be?" We listened to the opinions of experienced photographers, thinking of how we could provide the best piece of equipment to satisfy such users, and engaged in the development process with the ideal lens in mind, but without being caught up in the framework of the conventional lens. 

Shimada (Product Planning): The foremost product concept was a lightweight design. This means a dramatic sense of lightness that one can feel when holding in the hand, as we achieved with the EF400mm f/2.8L IS III USM and EF600mm f/4L IS III USM. The reason we are committed to a lightweight design is because even though the pro and advanced amateur photographers who use super-telephoto lenses have their own ideals when it comes to specifications and style, they all invariably request a lighter lens. We also took into consideration the common view that simply lighter is not enough — rather, the weight balance when holding the camera is an important factor as a professional tool of the trade. Of course one requirement that absolutely must be met is high image quality. Just how light could we make the lens while achieving high image quality? That was the key point of this project.