The Canon EOS RP Might Be An Entry Level DSLR And Not A Mirrorless Camera

According to Nokishita, the recently surfaced moniker Canon EOS RP might not belong to a new full frame mirrorless model in the EOS R line-up but instead to an entry level DSLR.
The machine translated text below seems to suggested this.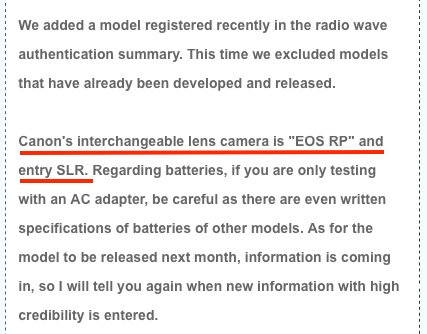 That said, consider that a lot may get lost in translation. The underlined text above could also mean that the two unreleased Canon cameras leaked through wireless certification authorities are the EOS RP and an entry level DSLR, though that seems less likely.
We expect a Canon mirrorless announcement on February 14. Stay tuned, we will soon know more.