For The Next 3 Days You Can Save On Luminar AI And Other Skylum Software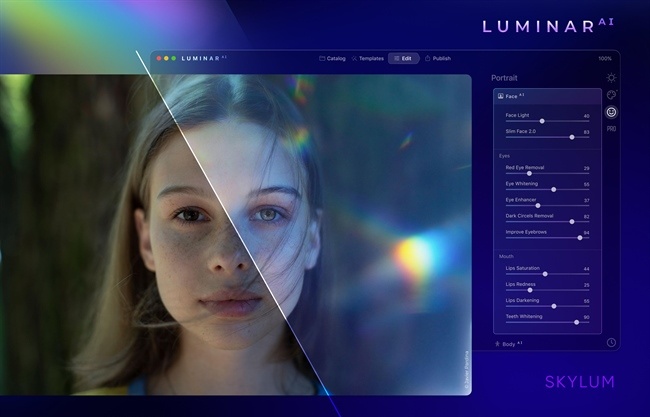 Skylum has an "End of Winter" sale. You can save on the cool Luminar AI photo editing software, and on bundles with other Skylum software.
Luminar AI at a glance:
Photo Editing and Raw Image Processing
Non-Destructive Workflow
AI Sky Replacement, Structure, Enhance
AI Skin & Portrait Enhancer
Smart Contrast, Sunrays, Looks Gallery
Library Panel for Image Management
Adjustment Syncing and Batch Processing
Smart Shortcuts and Luminar Trash
Can Be Used Standalone or as Plug-In
For macOS 10.13.6 and Later / Windows 10
See all discounted Luminar AI and Skylum bundles here.
Luminar AI is powered by artificial intelligence and makes most editing tasks a swift and it's pretty funny to use. The video below by Peter McKinnon tells you what Luminar AI can do for you.
---
Hand-picked deals are listed here.
Deal pages:
Refurbished lenses and DSLRs at Canon Store (best deals to be found here)
A full description of Luminar AI can be found after the break.
Description:
Using advanced AI processes and an intuitive workflow, Luminar AI from Skylum is an efficient tool for editing and managing a library of images in an effective, seamless, and non-destructive manner. Luminar AI revolves around key updates to machine learning technologies, using new tools like AI Sky Replacement, AI Skin and Portrait Enhancer, and AI Structure for quickly adjusting the look and feel of images without needing to employ complex masks, selections, or layers. Raw file processing is also possible, with AI technology and a host of Looks and effects, for making one-click adjustments to photos to achieve repeatable and attractive effects. For consistency, edits can be synced between images and used for batch processing to expedite workflow. Using a dedicated Luminar Library Panel, viewing, sorting, rating, and labeling images is an intuitive process, which also editing multiple photos at a time. Specialized AI Sky Enhancer and Accent AI tools make it simple to perform several adjustments using a single slider, and a collection of more than 45 photo filters assists in finishing photos with style and consistency. Luminar AI can be used as a standalone application or as a plug-in with other popular editing applications to easily integrate within an existing editing workflow process.
Luminar AI Updates and Enhancements
AI Sky Replacement uses machine learning and intelligent algorithms to completely replace the sky in images to alter the mood or apparent time of day or season of a photograph. Automated relighting also keeps foreground subjects in harmony with the adjusted sky for a realistic and dynamic appearance, without needing to make complex layers or masks.
AI Sky Enhancer is a slider dedicated solely to adjusting and perfecting the look of skies, and a specialized Sunrays filter lets you quickly added realistic sun rays to your images.
AI Skin Enhancer and Portrait Enhancer use human-aware technology for quickly retouching portraits. Using an intuitive slider system, skin smoothing, teeth whitening, lip reddening, and other common portrait adjustments can be made without the need of masking and selections.
AI Iris easily enhances or changes eye color for portraits, adds catchlights or highlights, and works in other tools to reduce dark circles and to whiten and sharpen eyes for dramatic effect.
AI Body automatically selects subjects and provides easy controls to shape bodies naturally. Easily add or subtract weight and compensate for unflattering poses and angles.
AI Structure is a content-aware tool that automatically detects elements in an image that could benefit from increased sharpness and detail without affecting other regions that do not require additional sharpness or clarity.
Accent AI automatically analyzes images and can apply dozens of adjustments with one slider. Using human-aware technology, these automated adjustments can also be applied to images of people for fine-tuned portraits.
Smart Contrast is a more careful and sophisticated means for adjusting contrast in an image, which helps to preserve color and details for more realistic and textured results.
An updated selection of more than 70 Looks provides one-click results to instantly transform a photos appearance. Additionally, custom Looks can be created and saved for future use.
The Landscape Enhancer toolset helps to fine-tune the look of landscape shots with a series of intuitive sliders, including Dehaze for restoring clarity and color; Golden Hour for adding a warm sunlight effects; and Foliage Enhancer for adjusting the color and hue of plants, trees, and flowers.
Finalize images with an intelligent object removal tool, a series of Creative effects sliders, adjustable Denoise adjustments, and an intuitive Details Enhancer slider system.
Key Features
Fully non-destructive workflow for greater editing freedom
AI Assistance offers scans the image and content to provide guided editing using existing templates that eliminates guesswork, but still provides full control when desired.
Luminar Library Panel for viewing and editing multiple photos at a time
Single Image View, Gallery View, and Filmstrip View to suit different organizational needs
Fast syncing of adjustments between multiple images for a consistent look
Images can be rated with stars, marked with color labels, and flagged as favorites or rejects
Referenced folders stay in sync with current version of edit
Updated list of criteria for filtering and sorting images more efficiently
Smart Shortcuts aid in automatically organizing photos
Luminar Photos Trash helps to keep drives clean and organized when sorting and deleting files
Quick Edits effects for editing single files
Luminar Looks uses AI technology to apply quick fixes, adjustments, and effects to images
Enhanced Info Panel and faster overall processing performance
Libraries allows efficiently viewing and management of photos, and to apply ratings and labels for improved file organization.
Adaptable Workspaces match image style for a more intuitive interface to work within, and include Professional, Quick & Awesome, Aerial, Landscape, Black & White, and more themes.
After applying edits to a single image, the template can then apply edits with additional images to maintain a cohesive look throughout series and groups of photos.
More than 45 distinct photo filters are available, along with a series of editing tools, including brushes, masking tools, layers, clone and stamp tools, and the ability to batch process images.
Tone Curve, HSL (Hue/Saturation/Luminance), and Color Toning tools can be used to efficiently adjust the brightness, contrast, and color rendering of photos.
Built-in Lens Correction and Transform tools help to remove unwanted distortion, whether it be due to the lens in use or the vantage point where the photograph was taken.
History Panel lets you retrace your steps and undo any unwanted edits.
Easily migrate customized templates from previous versions of Luminar editing software.
Luminar AI can function as a standalone application, for installation on up to two computers, or as a plug-in with Apple Photos (Mac only), Aperture (Mac only), Adobe Photoshop, Lightroom Classic, or Photoshop Elements.