How Groundbreaking Is Canon's Dual Pixel Auto-Focus? (so much to go on the C100)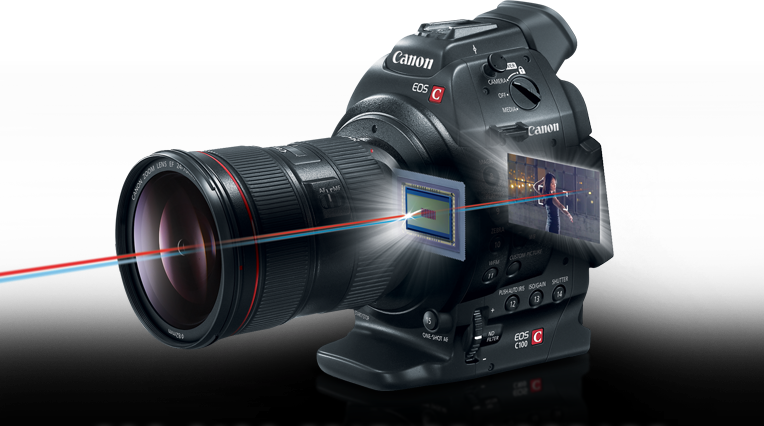 The most innovative feature Canon introduced with the EOS 70D is Dual Pixel CMOS Auto-Focus, a new AF technology that allows for fast and accurate focusing in live-view and video mode. The AF technology works so well that it outperforms conventional AF. If you were still wondering how groundbreaking Canon's Dual Pixel Auto-Focus is, then think this: Canon offers to upgrade the EOS C100 cinema camera with the Dual Pixel AF technology. So, not just groundbreaking, but truly game-changing. An innovative technology worth to be offered as upgrade on a $8000 professional cinema camera, and a technology that obviously can make a difference even on such a high level professional gear. A technology you can have with the awesome EOS 70D, available at a much lower price point.
Canon will offer the upgrade for the EOS C100 starting in February 2014 for the (relatively) cheap price of $500. The upgrade delivers the Dual Pixel CMOS AF, AF lock controls, focus presets and faster center-only focusing.
Available soon from Canon will be a factory-installed upgrade for the EOS C100 Digital Video Camera that will offer an autofocus mode to prevent motion artifacts during rapid talent and pan moves. The upgrade provides a new Continuous AF (Autofocus) Function for all Canon EF Lenses, apart from manual-focused models, using Dual Pixel CMOS AF technology. A new AF Lock setting also lets you change the image framing while holding the desired focus point. These critical focusing capabilities are designed to enhance the smooth capture of moving subjects and achieve more natural-looking autofocus so users can meet their creative needs in even more situations.
C100 owners will have to send their camera to a Canon Service Center for the upgrade. Canon has a dedicated page for the upgrade, and there is also a Canon Professional Network article about the upgrade.
Canon USA press release:
Canon EOS 70D
B&H Photo, Adorama, Amazon USA, Amazon Canada, Canon Canada, Canon USA
Canon to Offer Dual Pixel CMOS AF Upgrade for the EOS C100 Digital Video Camera
New EOS C100 Camera Feature Upgrade Offers Outstanding Continuous AF Performance for Documentary, Electronic News Gathering, and Small-Crew Productions
MELVILLE, N.Y., November 5, 2013 – Canon U.S.A. Inc., a leader in digital imaging solutions, announced today that the Company will offer an optional feature upgrade for the EOS C100 Digital Video camera which will support innovative Dual Pixel CMOS AF autofocus technology, enabling continuous autofocusing with Canon's entire EF lens lineupi. This optional upgrade is expected to be available in February 2014 for a cost of $500.00 and will require the EOS C100 camera body to be shipped to a Canon service center.
The Canon feature upgrade will provide the EOS C100 camera (first introduced in November 2012) with greatly improved autofocus (AF) functionality made possible through Dual Pixel CMOS AF technology. First employed in the EOS 70D digital SLR camera launched in August 2013, the innovative new AF technology helps facilitate greater shooting efficiency across a variety of shooting situations. For users that work with moving subjects, this optional Dual Pixel CMOS AF upgrade for the EOS C100 camera will allow for a smoother, more natural autofocus that can be particularly useful for video markets like documentary, sports, event and wildlife.
Canon's Dual Pixel CMOS AF makes use of the Company's proprietary CMOS sensor technology with a new structure that both captures light and performs phase-difference detection autofocus. While focusing on the EOS C100 camera is primarily performed manually, the feature upgrade will enable smooth continuous AF, a capability that can be particularly beneficial when operating with a small production crew, electronic news gathering, or run-and-gun documentary-style shoots.
The Dual Pixel CMOS AF functionality offered through the feature upgrade supports continuous AF with all compatible Canon EF lenses for subjects positioned in the center of the imaging area. The complementary use of the contrast signal achieves advanced AF stability that helps reduce the occurrence of image blur. Also, the inclusion of an AF Lock function contributes to expanded shooting flexibility through focus preset, which allows users to set a desired focus distance in advance, and the ability to alter the photographing range or composition after establishing focus.
This optional feature upgrade increases the speed of the EOS C100 camera's One-Shot AF function by approximately two-times, which enables users to focus on a subject located at the center of the screen with the push of a button, a feature that is currently supported on 104 Canon EF lens modelsii.
This feature upgrade service will be made available to users through Canon's product maintenance centers. For more information about this update, please visit the Canon U.S.A. website at usa.canon.com/cusa/professional/standard_display/eos_c100_feature_upgrade .