Here Is How The iPhone 11 Compares To The $13k Fujifilm GFX 100 Medium Format Camera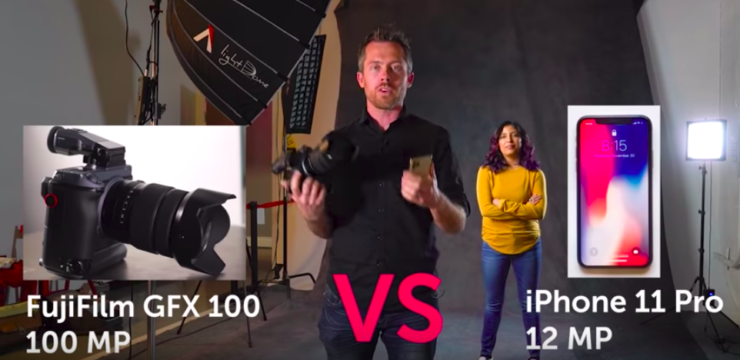 Let's go for another compare-apples-to-pears post.
It seems the iPhone 11 inspires people to compare it to professional and much more expensive photographic gear. After a comparison with the Canon EOS 5D Mark IV, here is another user, Josh Rossi, better known as Photoshop Dad, who compares his medium format Fujifilm GFX 100 to the iPhone 11.
He writes:
In this video, I'll be comparing the iPhone 11 Pro with the Fujifilm GFX 100. The Fuji medium format camera costs right around $13,000 with the body and lens and is one of the best cameras out there today. The sensor size alone is 1/3 the size of the entire iPhone 11 just for comparison.

Initially, I didn't want to even compare the two because I thought that the GFX was going to win by a long shot. I was totally surprised when I did the comparison and saw the results on the computer. Even though the more expensive camera obviously wins this battle, the iPhone 11 Pro gave surprising results especially if the viewer isn't zooming in super close to the image.

I got really excited about it and decided to try and recreate a movie poster. I've wanted to do this test for years but Apple's technology wasn't up to par yet. Once again I was surprised at the results that were created. I think that the image quality of the iPhone is good enough to print on a billboard, post on social media and even use on big campaigns.
Once more, you have to guess the camera that shot the picture. Enjoy.
[via
Bored Panda
]