How Does Canon's 20 Years Old EOS-1D Image Quality Hold Up?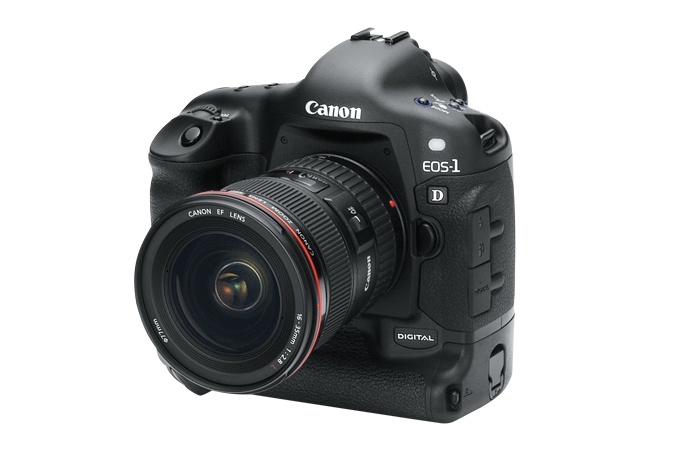 20 years ago Canon released the EOS-1D, the company's first attempt in the professional digital camera market. How does the image quality compare nowadays?
At a glance:
Magnesium body, environmentally sealed, based on the Canon EOS-1V
4.48 megapixel CCD sensor (primary colour filter)
Focal length multiplier: 1.3x
Maximum burst speed of 8 fps for up to 21 JPEG frames or 16 RAW frames
ISO 200 – 1600 in 1/3 stop steps, ISO 100 or 3200 available from a custom function ISO sensitivity bracketing
Evaluative, Partial, Center-weighted, Spot and Multi-spot metering
Shutter speed range: Bulb, 30 – 1/16,000 sec (1/500 sec flash X-sync)
Noise reduction can be enabled for exposures 1/15 sec or slower
100 percent viewfinder coverage meeting professional needs with adjustable diopter and eyepiece shutter
45-point Area AF for compositional freedom, and 21-zone metering
10 white balance modes and WB bracketing functions, including setting Kelvin values
Voice narration recording with built-in microphone–maximum of 30 seconds
21 custom functions and 25 personal functions, which can be stored into function groups
EduardoPavezGoye wanted to find out and discusses his findings about the Canon EOS-1D in the video below. I think the image quality is pretty good for a 20 years old digital camera with a 4.5MP sensor. Sure, you won't print large formats, but still.
More about the Canon EOS-1D at Wikipedia. If you are curious, you'll find the Canon EOS-1D press release after the break.
Canon EOS-1D press release:
A new concept in professional digital SLRs. Faster shooting speeds and auto focus than ever before, without sacrificing image quality. Unsurpassed strength, durability, and weather-resistance. Unmatched control of images, from folder creation in-camera to the software used to view on your computer. The world's most sophisticated auto flash system for digital SLRs and a line of lenses renowned the world over for their innovation as well as their optics. It's not just performance; it's total performance. The EOS-1D.
Equipped with a fast digital auto focus system covering 45 auto-focus points, the Canon EOS-1D boasts the ability to take eight pictures a second. It delivers an image using a 4.1 million pixels imaging sensor, which means awesome firepower and faster, better quality pictures with a camera that is as solid and easy to use. The EOS-1D digital is fully compatible with many other EOS accessories, including lenses used on normal analog Canon cameras. The body is made from magnesium alloy, protecting internal mechanisms from electrical interference and sealed with 70 moisture-resistant seals. It comes with image control software that is compatible with Windows and Macintosh computers. Finally, the EOS-1D also allows sound recording — ideal for verbal note-taking in the field. Sound files can be played back with the EOS-1D's driver software.
Performance
Forty-five AF points cover more of the picture area than any other digital SLR in the world, making focusing and composing of off-center subjects a one-step operation. It's a versatile system, allowing the photographer numerous methods to manually select an AF point, or allowing the EOS-1D to automatically select the AF point instead.
The new large-area, four million pixel CCD imaging sensor electronically times shutter speeds, and makes possible speeds as fast as 1/16,000th of a second. EX-series EOS Speedlites can sync to an amazing 1/500th of a second. The bladed rotary-magnet shutter is durability-tested to 150,000 exposures.
With a generous buffer memory, the EOS-1D can fire up to 21 consecutive frames (at up to 8 fps) in its full-resolution, best-quality JPEG mode. That's at four million pixels per image. Even more impressively, if capturing both RAW and JPEG images simultaneously, you can still fire bursts of up to 16 frames (at full resolution, of course) at up to 8 fps. A viewfinder indication is updated instantly to advise you of remaining frames in a burst.
Build & Reliability
All body covers and most internal chassis components are constructed of magnesium alloy that minimizes weight and delivers exceptional rigidity. This alloy also serves as an effective electromagnetic shield, protecting internal mechanisms from electrical interference. Every external detail was designed with environmental resistance in mind. Coupled with a durable baked coating, the body provides extra durability to withstand the toughest shooting environments.
The new EOS-1D is the most extensively protected camera in its class. Seventy-two points on the camera body are specifically gasketed and sealed to protect it even in the harshest conditions, and the NP-E3 battery pack is gasketed as well to protect the battery compartment. Even the lens mount has a protective rubber surface, which mates with rubber gaskets on certain professional EF lens.
Image Quality
The EOS-1D's newly developed 4.48 million pixel CCD sensor (4.15 million effective pixels) is a full 28.7 x 19.1mm in size-with square pixels a full 11.5 x 11.5 microns. With its large CCD sensor, the lens focal length factor is only 1.3x. This means less adjustment and compensation for lens focal length to get the results that you desire.
In addition to three JPEG compression setting, the EOS-1D offers a proprietary RAW file mode for the finest possible image quality. RAW files from the EOS-1D have a number of quality advantages. Their data is recorded at 12-bits per pixel, which provides a wider range of tones and superior detail in bright highlights and deep shadows. When converting using the EOS-1D driver software, a variety of processing options and parameters provide incredible control over the finished file.
Unlike a film camera, the ISO Sensitivity can be adjusted between 100 and 3,200. EOS-1D's imaging sensor's ISO sensitivity can be altered freely from shot to shot, depending on the lighting and desires of the photographer. The EOS-1D provides a normal ISO range of 200-1,600 in 1/3-stop increments, and a Custom Function expands this range between 100 and 3,200. Entirely new is the EOS-1D's unique ISO Bracketing mode, which permits three bracketed exposures while maintaining the exact same aperture/shutter speed combination – the camera adjusts the ISO sensitivity to alter exposure!
Since the best coloring for a particular shot depends on photographer preference as well as shooting conditions, Canon provides a unique color matrix function that lets you select different color characteristics as if you were choosing different types of film. Five settings let you choose between 4 variations of the standard sRGB color space or one setting for the expanded Adobe RGB (1998) color space. Color Matrix settings apply to both JPEG and RAW EOS-1D images, but can be overridden with RAW files when using Canon's driver software.
All digital SLRs provide white balance control. But none to date provide the variety of options available in the EOS-1D. From totally automatic control to precise dialing-in of the kelvin color temperature, white balance is an example of the designed-in flexibility of the EOS-1D, and an example of Canon's belief that in a professional camera, decisions should be left to the professional.
Software
Images can be transferred using either the camera built-in IEEE1394 connector (taking advantage of the speed of "FireWire"), or by removing the CF card and inserting it into a card reader. Canon software includes an entirely new TWAIN driver (Windows) and Macintosh Plug-in Module, which have extensive capabilities including of course the ability to display JPEG and/or RAW EOS-1D images on-screen for editing or for RAW file conversion purposes.
Thirty-four items of text data are recorded by the EOS-1D every time you fire the shutter, and all can be viewed on your computer monitor using the EOS-1D's driver software (18 of these items can also be viewed on the camera's LCD monitor). Press shooters and photojournalists will appreciate its compatibility with industry-standard IPTC data recording (19 items can be viewed using the EOS-1D driver software, and the photographer's name and date/time are automatically recorded). Finally, the EOS-1D allows sound recording – ideal for verbal note taking in the field. Sound files can be played back with the EOS-1D's driver software.
Connect the EOS-1D to a compatible Windows or Macintosh computer with the IEEE 1394 cable, and Canon's Remote Capture software will allow you to shoot and save your images onto you computer's hard drive immediately as they are taken, and view them on the computer's monitor. It's a great option for various professional shooting; from studio portraits or catalog shoots to recording scientific data in the lab. Remote Capture software also includes timing controls for unmanned shooting, with intervals of up to 60 minutes between each shot possible.
Personal Functions are part of the EOS-1D's driver software, and can be installed into the camera at any time using the IEEE1394 connection to a compatible Windows or Macintosh computer. Personal Functions can be loaded into the camera, and once installed, they can be turned on and off just as the EOS-1D's built-in Custom Functions can. Twenty-four Personal Functions are available, and most match those used in the EOS-1v professional 35mm SLR. Combined with the built-in Custom Functions, the EOS-1D's Personal Functions provide professional flexibility unmatched by any other digital SLR.
[via DPReview]