It Takes 40 Minutes To Make A Canon EOS 6D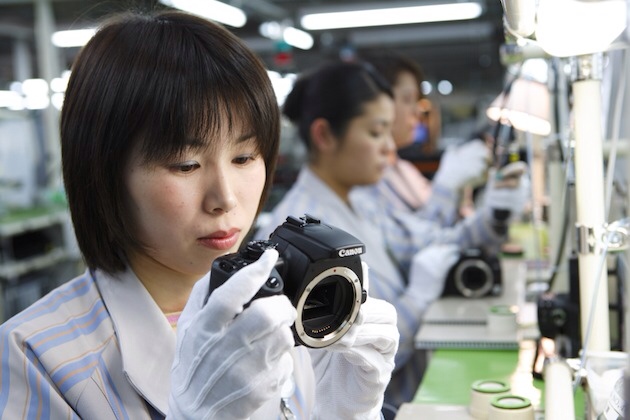 Exposure Magazine made a visit at the Canon factory in Oita Prefecture, Kyushu, Japan. They had a chance to observe the highly automatized production process of the Canon EOS 6D (price & specs). The process deploys along 15 production stages, and it takes 40 minutes to make a Canon EOS 6D, packaged and ready to ship.
The sensor is mounted at the first stage, stages 2-6 is where all the other components are installed. Screws are automatically inserted and tightened at stage 7. The following stages are dedicated to various quality controls. The camera is tested for the electronics, the mechanical parts, and for the overall photographic performance. Finally, at stage 15 the camera is packaged and ready for shipment.
The same production process is used also for the Canon EOS 5D Mark III (price & specs), EOS 7D (price & specs), Canon EOS M (price & specs), and the Legria camcorder.
B&H still has a cool EOS 6D deal going on: the 6D body with a Lowepro – Adventura 170 Shoulder Bag and a Lexar – 16GB SDHC Memory Card Professional Class 10 UHS-I memory card for $1899 (click here). Or take the EOS 6D plus the EF 24-105mm f/4.0L and the memory card for $2499 (click here). This deals are part of the rebate programs that expire today, Saturday, 2/2/2013.
Canon EOS 6D price check: Amazon USA, Amazon CA, B&H Photo, Adorama, Digitalrev, KEH Camera, eBay US, Canon USA, Canon CA, BestBuy
[via Exposure Magazine]