Kipon Announced 8 Different Baveyes/Focal Reducers For Canon EOS R And Nikon Z Systems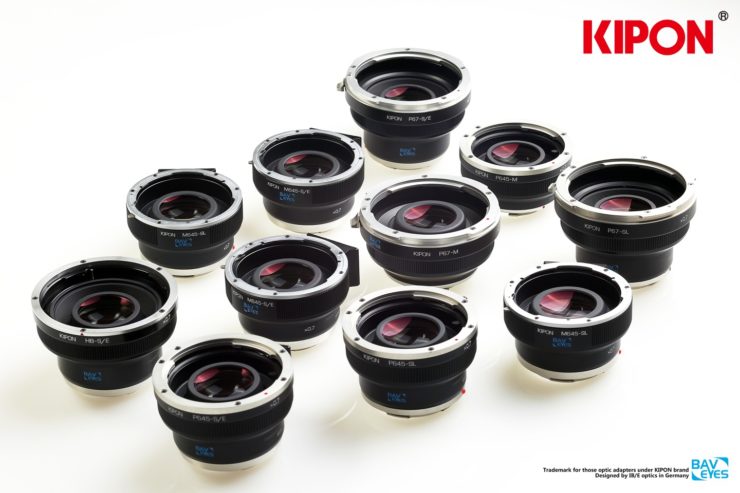 Kipon announced eight Baveyes/focal reducers for the new Canon EOS R and  Nikon Z mounts
Baveyes Pentax645-Nikon Z 0.7x
Baveyes Pentax67-Nikon Z 0.7x
Baveyes MAMIYA645-Nikon Z 0.7x
Baveyes Hasselblad V-Nikon Z 0.7x
Baveyes Hasselblad V-EOS R 0.7x
Baveyes MAMIYA645-EOS R 0.7x
Baveyes Pentax67-EOS R 0.7x
Baveyes Pentax645-EOS R 0.7x
The adapters are already listed on Adorama | Amazon | eBay
Press release:
KIPON Baveyes introduces a lineup of the world's first lens adapters that bring the famous medium format optics to Sony E, Leica SL and Leica M ,Nikon Z, Canon R 35mm full frame cameras, virtually eliminating any crop factor image loss and maintaining diagonal angle of view.
The transformation results in a 0.7x factor to the original lens focal length with a gain of one stop in lens speed. Foremost in the advanced adapters, is the custom designed five element multicoated formula by German optics research institution, with the ability to use full frame SLR lenses on crop sensor camera bodies and mirrorless cameras.
Many medium format lenses are legendary for contrast, flare resistance, color saturation, bokeh and are in a class of theirown compared to even the best 35mm format glass. And the Sony, Leica ,Nikon, Canon image sensors, in the heart of their robust camera bodies, give new life to these medium format legendary lenses. The retailer price for these optic focal reducer is 695USD ,can order from Amazon Japan and Tmall China and Ebay factory shop from this week.