Latest Canon Patent Applications (Pop-UP EVF, Resin Mount, Hybrid EVF, Lenses and Sensor)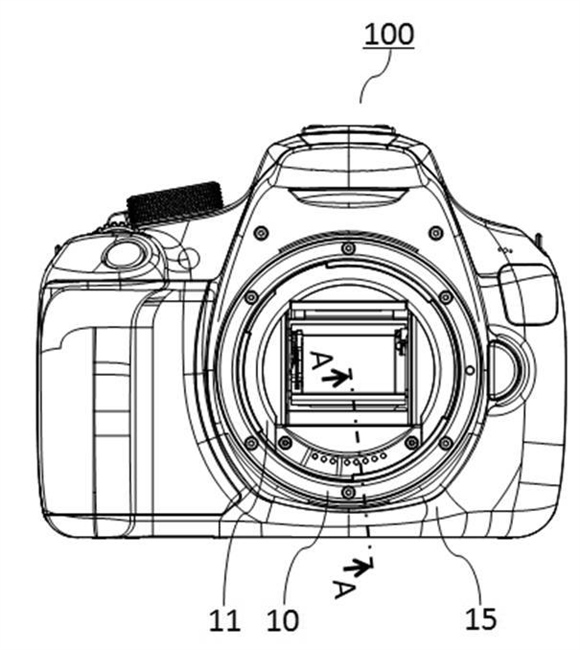 Here are the latest Canon patent applications.
Canon patent application 2019-023685 describes a pop-up EVF (Electronic ViewFinder). From the patent literature:
Since a display-device part and the eyepiece for magnifying it are needed EVF, when mounting on a compact camera, the place to arrange serves as problem. Since the large-sized external display device serves as a form which covers a camera back substantially, in order to look into EVF from the back face of a camera, an external display device must be avoided and arranged. A camera will enlarge only the part of EVF then. When it is going to avoid enlargement, an external display device must be made small and usability becomes less good. In order to correspond to these problems, there are some on which pop-up type EVF like the description to a Patent document 1 is mounted.

EVF loading is realized without [ when using this inside a camera, being stored at the time of EVF non-use, without it functions as a finder by making it jump out to camera outside and miniaturizes an external display device, and ] enlarging a camera.
Canon patent application 2019-023688 describes a resin (plastics) made lens mount:
Conventionally, although the camera mount of the camera with interchangeable lenses comprised a metallic material in consideration of durability, reliability and accuracy, etc., the camera mount which comprises a metallic material had the problem that things and component cost with heavy weight became high.

The camera body which has the camera mount which comprised resin materials, such as a plastic, by improvement in the durability of engineering plastics or reliability and progress of forming technique is produced commercially these days. A weight saving and component cost reduction are attained because camera mount becomes a resin material.
Canon patent application 2019-020538 describes a hybrid optical and electronic viewfinder:
The present invention relates to the single-lens reflex camera which has an optical finder and an electronic finder, and relates to the change of the finder to which seeds responded as for the electronic device with which the especially single-lens reflex camera was equipped, or the optical element.

In recent years, the single-lens reflex camera which has a finder which has arranged the optical-path dividing prism in the optical path of an optical finder in a single-lens reflex camera, and has arranged the display device which becomes the equivalent position from a liquid crystal panel etc. optically with a focus detecting plate is known.
Canon patent application 2019-020679 describes the optical formula for a RF 100-400mm lens (for EOS R systems):
Focal distance 102.21 195.97 389.86 ​
F number 3.83 4.93 5.85
Half angle of view (degree) 11.95 6.30 3.18
Image height 21.64 21.64 21.64
Lens total length 204.85 250.29 291.30
BF 4.31 31.68 97.49
Canon patent application 2019-017065 describes a photon counting image sensor.
Canon patent application 2019-0052781 discusses how to improve the reliability of tilt-shift lenses.
That's all for now; patent round-up source: Canon News
More Canon patent applications are listed here. Some particularly interesting patent applications we think might get into production in the next few years are these: