Mysterious Canon Hong Kong Teaser For Announcement On April 24th (updated)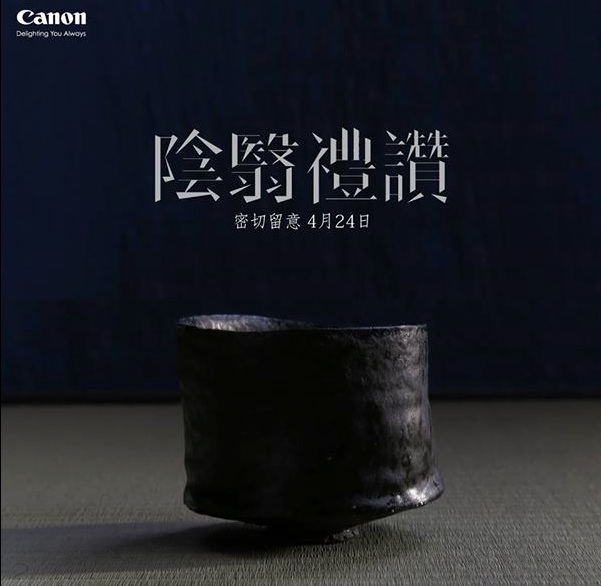 thanks to the user who sent in the link
update #3: It's the Powershot G1X Mark II :-)
update #2: the discussion about what the teaser means is going wild on Canon Hong Kong's Facebook page. Suggestions go from a b&w DSLR to all sort of lenses. Keep in mind that this is a regional announcement and I don't think Canon will announce something very important. Although, the teaser seems to point to a lens.
update: The teaser text is quoting Jun'ichirō Tanizaki, an important author of modern Japanese literature. Tanizaki wrote an essay about aesthetics titled In Praise of Shadows. The exact quote, found in the book, is
Beauty lies not in objects, but in the interaction between the shadow and light created by objects.
_______________________________________________________________________
[original post:]
Very weird and unintelligible (for me) teaser posted by Canon Hong Kong on their Facebook page.
Something is going to happen on April 24th, but I couldn't find any hint helpful enough to understand what the teaser is suggesting. I tried the automatic translation of the text coming with the teaser, but couldn't really understand anything. See for yourself (Bing translated):
The Dhamma (Cantonese tone ngai3, formed by the homonym), to be obscure; representative of praise, adoration praise with a heart of praise; "Yin Dhamma celebration" on behalf of tribute to dark, dark. As author tanizaki's comment, the beauty does not exist on the object, while in between the object and object of no deep shadow and light and shade
The last phrase about beauty could be interpreted as "the beauty does not exist in the object, but between the object and the shadow of the object, and between light and dark".
[via
Canon Hong Kong
on Facebook]