Nauticam Underwater Housing Support For Canon Rebel T5i (EOS 700D)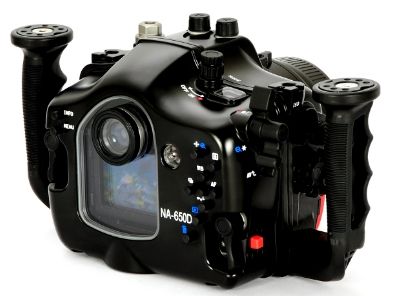 Nauticam's NA650D underwater housing for the Canon Rebel T4i/650D can be used with no modifications on the Canon Rebel T5i/700D:
Nauticam is pleased to announce support for the Canon EOS Rebel T5i camera, also know as the EOS 700D. The T5i/700D can be used in the NA-650D housing with no modifications. NA-650D is available now, and provides full functionality for the newest Rebel.
Just to have a look: the user manual for the housing can de downloaded. More information on the NA-650D product page.
KEY FEATURES
Standard Features:
-Patented Locking Port Release Lever.
-Sensitive Two Stage Shutter Release Lever.
-Optical Strobe Connectors.
-Rubberized Ergonomic Grips.
-Customizable Accessory Port (allowing use of optional Nikonos, S6, or Ikelite Strobe Connectors, Hydrophone, HDMI Video Out, or Remote Control Connectors).
-Embossed Control Function Labels.
-Quick Release Camera Mounting Shoe.
-Lens Release Button.
-Four Strobe & Accessory Base Mounting Locations.
-Complete Access to All Key Camera Controls.
-0.66x Optical Pickup Finder (Enhanced 180o Viewfinder or 45o Viewfinder optional).
Technical Data
Specifications:
-Depth Rating: 100m.
-Dimensions (with handles mounted): 325mm x 170mm x 134mm.
-Weight: 2.5kg (5.4 lbs.).