Update – New Firmware For Canon EOS-1D X Underway?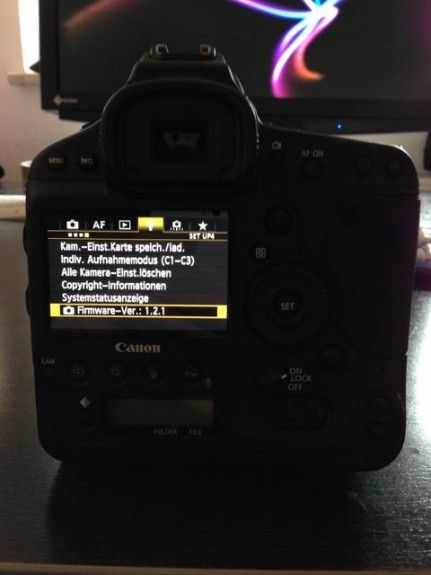 Specs of the firmware 1.2.1 showed up at Canon Rumors. See at the end of the post.
Danke/thank you Heinz!
This comes from a discussion on dslr-forum.de. A user sent in his Canon EOS-1D X (price & specs) (to CPS) and got it back with a new firmware version, that's 1.2.1 (1.1.1 is the current official version). Then he called Canon service and was told it is a firmware version that is reserved to service and that there are no information about it in the Internet. It delivers some fixes and overall improvements. There are no major changes and minimal difference to release 1.1.1. At least the user who sent in the EOS-1D X has not noticed any changes so far.
The EOS-1D X was sent in for the purpose of fine-tuning the auto focus (he sent in the 1D X and the EF 70-200 2.8 IS II, 1.4x III and 2.0x III extenders). AF is much more snappy now, he writes, but that's plausibly due to the fine-tuned AF.
Here the specs as they are reported on CR:
Canon EOS-1D X Firmware 1.2.1

Release of New Firmware Version 1.2.1, firmware incorporating disablement (operational error prevention) of the Image Size selection button

We are releasing firmware version 1.2.1 for EOS -1D X for service prior to the Web announcement. We are planning to make this firmware available on the Web for download in mid-January 2013.

This firmware update is to improve operational function in response from several professional

photographers that the Image Selection button was pressed without realizing and the image size had been changed. Also, this firmware incorporates quality issue fixes that have been reported from the market.

1. Details of Functional Improvements and Fixes

1-1. The function to disable the Image Size selection button is added.

1-2. Fixes Err 70 and Err 80 which may occur depending on the camera settings, shooting scenes, or the timing of releases. Also, some complained camera freeze when Err 80 occurred.

The above mentioned (1-2) phenomenon occur in very rare instances. In addition with the firmware update for 1-1, the fixes for these phenomena have been incorporated.

a) Err 70

In customization of operational buttons, there were errors in operational program for the exposure level display in the viewfinder when the Main Dial is set to change the aperture value in Manual mode, and may cause Err 70.

b) Err 80

Err 80 may occur depending on the distance to the subject, shooting scenes, or the timing of metering.

This phenomenon occurs in very rare instances due to the error in operational program for metering when shooting a subject at a distance with telephoto lenses with focal lengths of 300 mm or 400 mm.
Canon EOS-1D X price check: B&H Photo, Adorama, Amazon USA, Amazon CA, KEH Camera, BestBuy, Canon CA, Canon USA
[via dslr-forum.de, via CR]