Off Brand News: Fujifilm reports impressive 76,1% increase in operating income from imaging segment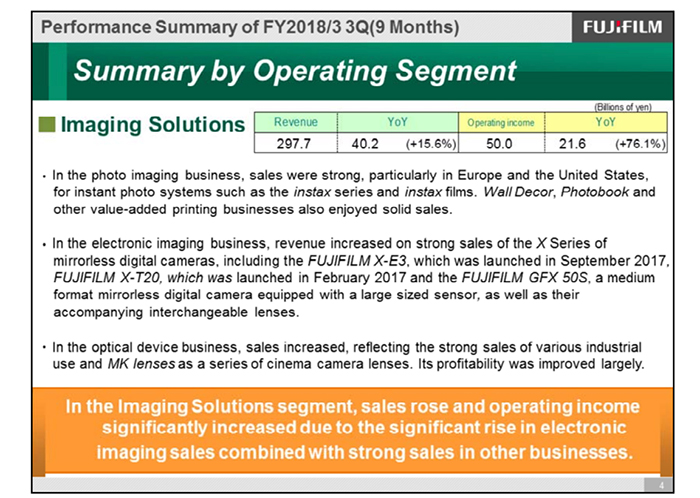 Fuji released the 2017 Q3 financial report. The results are stunning: +15.6% revenue increase and +76,1% operating income increase. Not bad at all.
Fuji's statement:
In the photo imaging business, overall sales increased due to favorable sales, especially in instant photo systems which enable users to enjoy on-the-spot printing of photos, such as the instax series and instax films in the Year-End shopping season. instax SHARE SP-3, smartphone printer, launched in November 2017, adopted the square format, popular for use in SNS. It advocates a new way of photo printing to boost printing demand among smartphone users. In the high-value-added printing businesses, sales expanded thanks to continued business growth from various services, including Wall Decor services that enhance the fun of decorating and displaying photographs by adding panels to the photographs and framing, the new COYOMI service for creating desktop calendars with favorite photographs, and the Year Album service that uses AI-based proprietary technology to automatically arrange the layout of a photo album.
–
In the electronic imaging field of the optical device and electronic imaging business, overall sales increased due to strong sales of FUJIFILM X-E3, which is achieving the most compact and lightweight body*, offering outstanding operational comfort and launched in September 2017, X Series such as FUJIFILM X-T20, FUJIFILM X100F which were launched in February 2017, FUJIFILM GFX 50S, a medium format mirrorless digital camera, adopting a big sensor (43.8mm by 32.9mm), and interchangeable lenses. In the optical device field, overall sales increased, reflecting the strong sales of various industrial use lenses such as lenses for and vehicle camera and projector, and MK lenses series were also launched as a new series of cinema camera lenses designed for recording video such as online video, whose market is expanding. Fujifilm announced 24x zoom lense UA24 x7.8BE in September 2017, achieving both small, lightweight body and 4K high-definition. With this introduction, Fujifilm has 8 4K broadcast camera lense products and is seeking to lead the field. * As of January 2017 in the X Series of mirrorless cameras equipped with a viewfinder
While most of the profit come from the successful Instax lineup, I guess it is at least to some degree also due to the fact that Fuji always gives the impression they really love their customers, for instance delivering firmware updates that add plenty of features. This is something we never see from Canon.
I always wished/hoped Canon would deliver a mirrorless lens ecosystem like Fuji did. But nope (so far).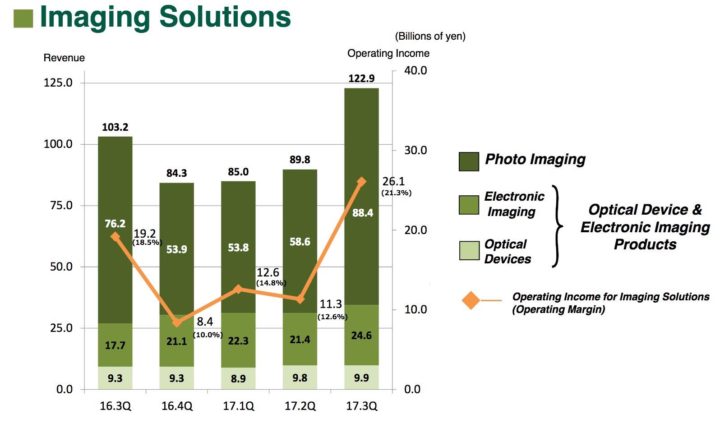 [via
Mirrorless Rumors
and
Fuji Rumors
]