PowerShot D20 Digital Camera in stock at B&H – Limited Quantity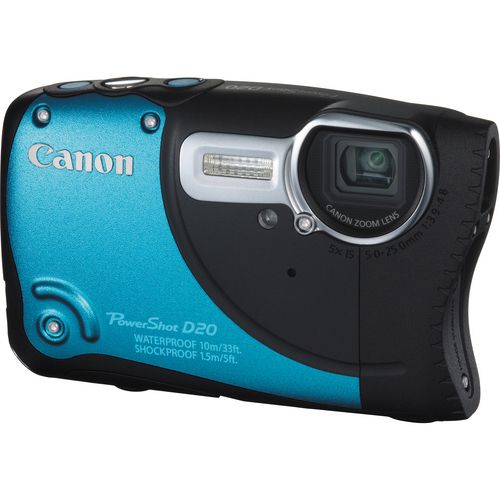 The water and shock-proof PowerShot D20 (with GPS!) is in stock at B&H at limited quantity for $349 (click here). Core specs:
12.1Mp High-Sensitivity CMOS Sensor
3.0″ Pure Color System LCD
28mm Wide-Angle Lens
Waterproof and Shockproof
Temperature Resistant Down to 14 Degrees
GPS Tracker
5x Optical Zoom
Intelligent IS
DIGIC 4 Image Processor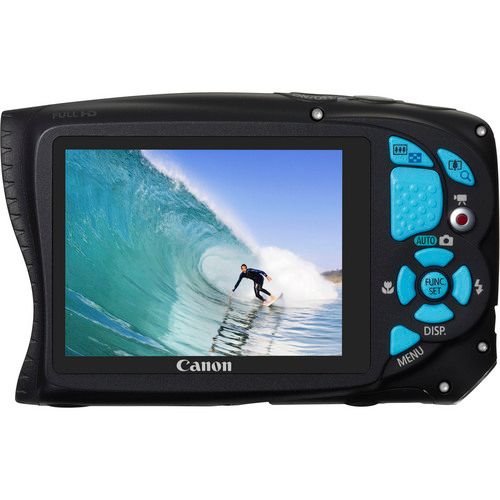 The Canon PowerShot D20 Digital Camera (Blue) is more than a point-and-shoot, it's an underwater wonder with a waterproof rating of down to 33′. The D20 also happens to be temperature resistant from 14-104°F and shockproof. Whether you're the adventurous type or simply want a camera with extra protection, the D20 has your back.
When it comes to image making, the PowerShot D20 features a 12.1Mp CMOS sensor and Canon's DIGIC 4 Image Processor – the two together make up the HS SYSTEM. Other notable highlights include 5x optical zoom, a 28mm wide-angle lens, and a 3.0″ Pure Color System LCD. Intelligent IS comes in handy for uncomplicated snaps and built-in GPS helps you track your images via location.
Waterproof, Shockproof, and Freeze-Resistant Design

Canon created the PowerShot D20 to be the tough, practical companion you'll want to bring on all your outdoor adventures, making it possible to capture truly impressive stills and video while doing what you love. Scuba dive, snorkel, paddle surf and more: the camera is waterproof all the way to 33 feet. Performance is fast and reliable in temperatures from 14°F to 104°F, so it's safe for everything from winter sports to summer hiking. Shockproof up to 5.0 feet, the PowerShot D20 is also able to survive the accidental falls and bumps inherent to mountaineering, biking, and other outdoor activities
Canon HS SYSTEM

The Canon HS SYSTEM lets you take bright, clear photos in an even wider range of shooting situations. Beautiful low-light shots are possible with minimal noise and maximum detail in highlight and shadow areas. The system is the result of two technologies brought together in PowerShot cameras: a high-sensitivity imaging sensor, which is able to capture more light; and the DIGIC Image Processor, which actively reduces noise with high-speed image processing. The 12.1 megapixel CMOS sensor in the PowerShot D20 incorporates advanced light reception technology that enhances sensitivity. The DIGIC 4 Image Processor provides a major boost in noise reduction, expanding the usable ISO range to an amazing high of 3200. The Canon HS SYSTEM takes the frustration out of low-light shooting, delivering clear, blur-free images
Canon DIGIC 4 Image Processor

Canon DIGIC Image Processors have set the standard for functionality and performance since their groundbreaking introduction in 1999. With each successive generation, DIGIC processors have brought elevated performance and powerful new features to PowerShot digital cameras. The DIGIC 4 Image Processor has ushered in a new level of picture quality and accelerated processing, making possible features such as high-speed continuous shooting, Full HD video and Face Detection Self-timer
Canon Full HD Video Advantage

In addition to the Canon HS SYSTEM, the combination of the advanced CMOS sensor and DIGIC 4 Image Processor in the PowerShot D20 makes it possible to shoot crisp, clear high definition video. Imagine the fun and excitement of being able to shoot spectacular 1080p Full HD that you can later watch on your HDTV or download to your computer to share with family and friends. In addition to being able to shoot Full HD 1080p video at 24 frames per second, the PowerShot D20 can also shoot 720p HD video at 30 frames per second
Dedicated Movie Button, Wind Filter Feature and Optical Zoom for Easy Video Capture

It's never been easier to shoot videos with a PowerShot digital camera. The PowerShot D20 has a dedicated movie button that lets you start and stop recording instantly. There is no need to go through layers of menus or operate switches or dials to switch to and from video recording mode. The camera is always ready to shoot stills or video whenever you want. The PowerShot D20 also incorporates an electronic wind filter, which suppresses wind noise that can muffle or distort the sound. And unlike less sophisticated point-and-shoot cameras, the PowerShot D20 lets you use the full range of optical zoom when you're shooting a video
HDTV Playback via HDMI Output and CEC

It's easy to enjoy and share the videos you shoot with the PowerShot D20. Simply connect its HDMI terminal to your HDTV using an HDMI cable. And because the PowerShot D20 supports HDMI-CEC technology, you'll be able to control the playback of your images and videos on any CEC-enabled HDTV using the TV's remote control. (CEC – Consumer Electronic Control – is part of the HDMI specification, enabling components in a system to communicate with one another.)
iFrame

With the PowerShot D20, you can also shoot video in the Apple iFrame format, which is a computer-friendly standard that speeds up importing and editing of videos. It keeps file sizes small, making it more convenient to upload or e-mail high-quality videos. The iFrame format enjoys native support in compatible Mac and Windows video applications, making it unnecessary to perform time-consuming and often quality-degrading conversions
5x Optical Zoom with 28mm Wide-Angle Lens

The PowerShot D20's optical brilliance is a perfect match for the outdoor adventures the camera's tough design supports. The 5x Optical Zoom (35mm equivalent: 28-140mm) (operable during video recording, too) brings wildlife and other difficult-to-approach subjects close. The 28mm Wide-Angle Lens makes all your shots more dynamic, and allows you to capture landscapes with their magisterial breadth intact
Pure Color System LCD

Many LCD screens on the market today use a striped arrangement of dots that works great for text and menus, but is not ideal for imagery. The PowerShot D20's PureColor System LCD uses a delta arrangement of dots, which works better for the organic nature of photos and videos, allowing you to review your images with exceptional clarity with rich, true-to-life color. The PureColor System LCD is also ultra-durable to withstand heavy use in all sorts of conditions. Just as importantly, it offers clarity you won't find elsewhere. Outdoors in sunlight, color is faithfully reproduced, while a high contrast ratio ensures that you'll see exactly what you're shooting from any viewing angle. This makes it easy to frame shots quickly in tight situations
Optical Image Stabilizer

Handheld shooting can often lead to camera shake, making photos and videos blurry. Canon's Optical Image Stabilizer is a sophisticated system that uses lens-shift technology to correct for unwanted camera movement. It makes handheld photography more practical, providing excellent image quality in many difficult shooting situations: outdoors at dusk, inside without a flash, and even at the telephoto end of the zoom range without a tripod. For photos, it enables shooting at slower shutter speeds, accommodating more low-light shooting situations than ever before without having to boost ISO sensitivity. With camera shake and vibration reduced, you get a sharper, steadier image. And because it is an optical system, there is none of the image degradation typical with electronic image stabilizers
GPS Technology

The PowerShot D20 digital camera is equipped with Global Positioning System (GPS) technology. Now you can travel the world and let the camera automatically record the locations and local times of your stills and videos. The camera can also use the GPS unit to automatically set the exact time. You can maximize the usefulness of the GPS feature by using the special bundled Map Utility software that makes it fun to share the memories of your world adventures. In addition to displaying all your photos' locations on a world map, the camera's GPS system can also track your route from photo to photo – a great way to visualize each trip! You can also create and share custom maps and personal mini-travel guides with friends and family members
Intelligent IS

The latest advance in Canon Optical Image Stabilization technology, Intelligent IS analyzes camera movement and applies the best shake correction method for the shooting situation. For stills, the system automatically selects among Normal, Panning, Macro (Hybrid) and Tripod IS modes. When shooting video, the system automatically selects among Dynamic, Powered, Macro and Tripod IS modes. With Intelligent IS, you can concentrate on image capture, letting the camera make the most effective IS settings to assure the steadiest possible image
Optional Accessories

A full range of optional accessories designed specifically for the PowerShot D20 take its fun and functionality to new heights. A Waterproof Case and Float are perfect for shooting in deeper waters down to 131 feet. A Carabiner Strap and Shoulder Strap keep the camera at hand during biking, climbing, hiking or any physical activity. A Silicone Jacket and Soft Case provide protection from the elements without adding extra weight
30 Display Languages Provided

English, German, French, Dutch, Danish, Finnish, Italian, Norwegian, Swedish, Spanish, Simplified/Traditional Chinese, Japanese, Russian, Portuguese, Korean, Greek, Polish, Czech, Hungarian, Turkish, Thai, Arabic, Romanian, Ukrainian, Farsi, Hindi, Malaysian, Indonesian, and Vietnamese
Playback Modes File

Stills and Videos:
Auto Rotate (Automatic vertical/horizontal detection), Image Advance (Operation Tools, Transition effects, Scroll Display), Rotate, Favorites, My Category, Smart Shuffle, Filtered Playback, Slide Show (Playback Interval, Repeat, Effect, Playlist)Still Images:
Single, Index (4-100 thumbnails), Magnification (2x-10x), Information Display, Red-eye Correction, i-Contrast, Trimming, Resize, My Colors, Focus Check, Histogram, Overexposure WarningVideos:
Normal Playback, Slow Motion, Special Playback, Editing, Resume
Video Pixels

iFrame Movie:
1280 x 720/30fps (Actual frame rate is 29.97fps)Super Slow Motion Movie:
640 x 480 (Shooting: 120fps, Playback: 30fps), 320 x 240 (Shooting: 240fps, Playback: 30fps)Miniature Effect:
1280 x 720 (Shooting: 6fps, 3fps, 1.5fps, Playback: 30fps)Other than the above:
1920 x 1080/24fps (Actual frame rate is 23.976fps), 1280 x 720/30fps (Actual frame rate is 29.97fps), 640 x 480/30fps (Actual frame rate is 29.97fps)
Additional Specifications

Shooting capacity: 280 shots; Playback time: 5 hours; Other interfaces: Mini-HDMI cable: connection to high definition monitor; SD Memory card slot; direct connection to Canon SELPHY Compact Photo Printers, PIXMA Inkjet Photo Printers and PictBridge-compatible printers via camera's USB 2.0; Erase modes: Select image, select range, all images (all filtered images); File format: Design rule for Camera File system, DPOF (Version 1.1) compliant; JPEG Compression Mode: Still image: Exif 2.3 JPEG; Continuous shooting: 1.9 shots/second (in P mode); 1.9 shots/second (in Low-Light mode), 6.8 shots/second (in high-speed Burst mode); Photo Effects: My Colors Off, Vivid, Neutral, Sepia, Black & White, Positive Film; Lighter Skin, Darker Skin, Vivid Blue, Vivid Green, Vivid Red, Custom Color; Recycling Time: 10 seconds or less (battery voltage: 3.7V); Autofocus system: TTL Autofocus; LCD coverage: 100%