Update – Quickstart Lightroom 4 iPad App Temporarily Free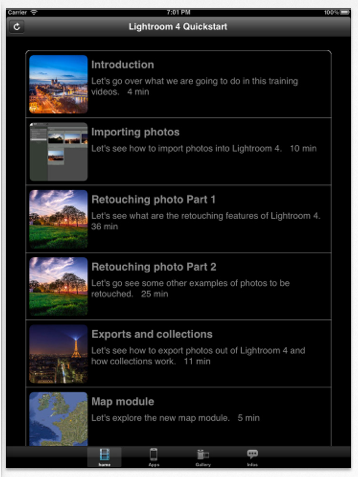 Update: no longer free, was a limited time offer.
Good news for all Adobe Lightroom 4 users.
Quickstart Lightroom 4 is an iOS app that usually is sold for $5.99, It's free today so grasp it while it lasts clicking here.
A few user reviews:
Excellent overview – a real help. I wish I had this program earlier.

Another wonderful app from Serge Ramelli. Worth every penny. It's to the point hands on training. App includes the raw files so you can practice. Knowledgable, funny and charming teacher. I've paid over $100.00 for training and learned more from these apps. Keep up the great work.

This is great. A tutorial made by someone that actually uses the software and doesn't assume other end users are not complete idiots.
Adobe Lightroom 4 price check: B&H Photo, Adorama, Amazon USA, Amazon Canada, Canon Canada, Canon USA
Apple iPad price check: B&H Photo, Adorama, Amazon USA, Amazon Canada, Canon Canada, Canon USA [via theappwhisperer]