Remote Tethering Software Kuuvik Capture Version 1.3 Released
Kuuvik Digital released version 1.3 of Kuuvik Capture, an advanced Canon EOS remote control application for Apple MAC OS X computers. This version extends camera support and introduces a more economical licensing scheme. New cameras are also supported:
Canon EOS 100D/Rebel SL1/Kiss X7
Canon EOS 700D/Rebel T5i/Kiss X7i
Rebel and Kiss variants of all previously supported xxxD/xxxxD models
A 15-day free trail version of Kuuvik Capture can be downloaded here. For the complete list of new features and changes consult the release notes. You can learn more about Kuuvik Capture here, or watch a series of video.
Supported cameras, system requirements, pricing and more after the break.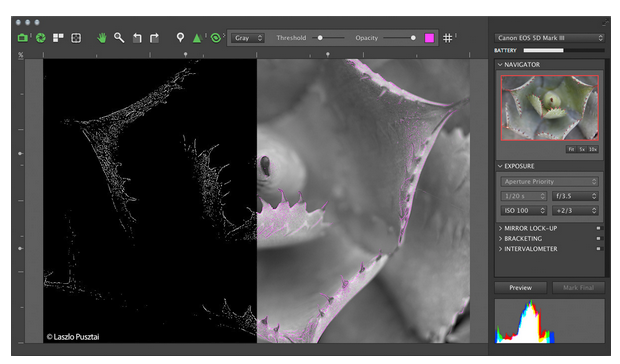 New licensing scheme

Standard licenses – the equivalent of our former camera licenses – are still good for using one camera at a time, but now allow up to five changes per year in the licensed camera. The new Professional license type was introduced to address the needs of professional photographers using multiple cameras, and allows using five cameras simultaneously, with an unlimited number of changes.

For the complete list of new features and changes please consult the release notes.
For more information please visit Kuuvik Capture's web page.

System Requirements

* Apple Mac or MacBook computer with a 2GHz Intel Core 2 Duo or better processor.
* 2 GB RAM (4 GB is highly recommended).
* 100 MB free disk space for the application, and gigabytes for your photos.
* Minimum 1280 x 800 pixels monitor resolution.
* OS X 10.6.8, 10.7.5, 10.8.5, 10.9.2 or later.

Supported Cameras

Canon EOS-1D Mark IV
Canon EOS-1D X
Canon EOS-1Ds Mark III
Canon EOS 5D Mark II
Canon EOS 5D Mark III
Canon EOS 6D
Canon EOS 7D
Canon EOS 60D
Canon EOS 70D
Canon EOS 100D / Rebel SL1 / Kiss X7
Canon EOS 550D / Rebel T2i / Kiss X4
Canon EOS 600D / Rebel T3i / Kiss X5
Canon EOS 650D / Rebel T4i / Kiss X6i
Canon EOS 700D / Rebel T5i / Kiss X7i
Canon EOS 1100D / Rebel T3 / Kiss X50

Pricing and Availability

Kuuvik Capture can be downloaded as a fully functional 15-day trial.

Standard licenses are available for $69.99, and Professional licenses are available for $169.99 online at Kuuvik Digital's web site.
Upgrades for existing Standard license owners are available. Please contact support@kuuvik.com for upgrade pricing and assistance.

Existing customers can update to version 1.3 free of charge.