Samyang 16mm V-DSLR T2.2 Cinema Lens Announced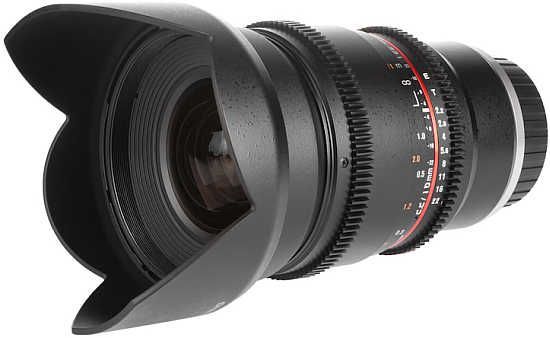 Samyang announced the 16mm V-DSLR T2.2 ED AS UMC CS, a cinema lens for DSLRs with an APS-C sensor. Press release after the break.
[via
PB
]
Press release:
Samyang 16mm lens now available in cinema version
Following the launch of the 16mm photo lens announced earlier this year, Samyang have just released information about the addition of the 16mm V-DSLR T2.2 ED AS UMC CS for cinema. The model will have a maximum aperture of T2.2 and the remaining optical parameters similar to the photo version.
This new lens will be available from September.
The new Samyang 16mm V-DSLR is a wide-angle, bright lens for cameras equipped with an APS-C sensor. Its optics comprise of 13 elements arranged in 11 groups, including an ED lens element, aspherical element and hybrid-aspherical lens element. Like all other Samyang models, all lens elements are covered with anti-reflection UMC coatings to ensure good light transmission. In the video version the indexes are arranged in parallel with optical axis of the lens to facilitate reading on the focus and aperture scale.
Suggested retail price £449.99 including VAT
The lens will be released in the following mounts: Canon EF, Nikon F, Sony A, Sony E, Canon M, Fujifilm X and Olympus MFT.
All Samyang lenses are covered by a 3 year guarantee.
Samyang offers a range of 6 affordable cine lenses from 8mm through to 85mm.
For further details please contact Intro2020 on 01628 674411 or visit the Samyang website at: http://www.samyang.co.uk
facebook.com/SamyangUK