Samyang RF 14mm f/2.8 Review (many strengths and a few shortcomings, D. Abbott)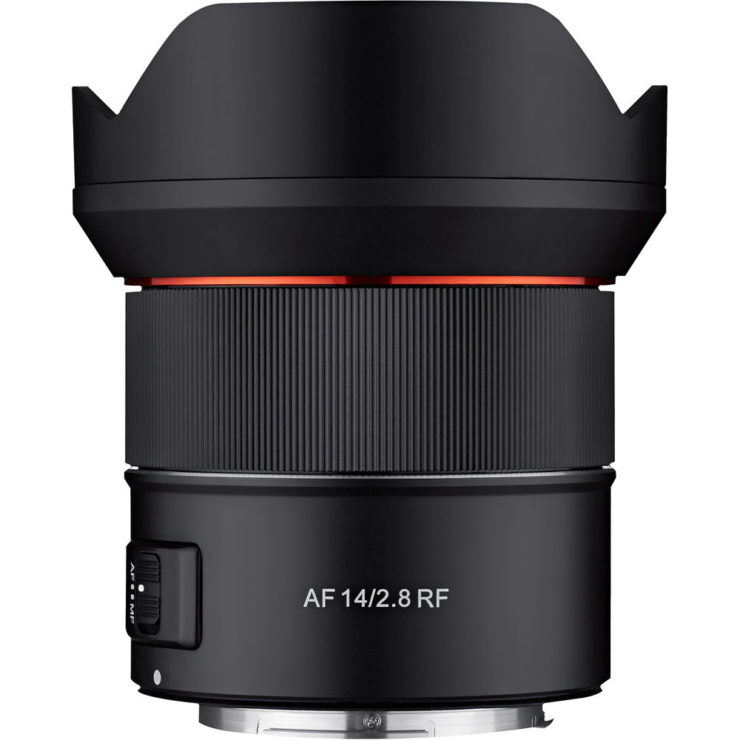 Here is a Samyang RF 14mm f/2.8 review. The Samyang RF 14mm f/2.8 mounts natively on the Canon EOS R system.
Dustin Abbott posted an exhaustive Samyang RF 14mm f/2.8 review. The Samyang RF 14mm f/2.8 is a rather fast wide angle lens for the Canon EOS R full frame mirrorless system.
From Dustin Abbott's conclusion:
[the Samyang RF 14mm f/2.8 is] not perfect; the extreme corners aren't super sharp until smaller apertures, and I didn't feel that the best landscape performance came until F8. Fortunately the wide focal length means that you can still effectively handhold in a lot of lighting conditions as you don't need a particularly high shutter speed to avoid motion blur even without image stabilization in Canon bodies (thus far). I found that even shooting at 1/30th to 1/50th of a second was sufficient to get reliably sharp results (unless I was particularly cold!), and that's possible in most lighting conditions. There's a fair bit of barrel distortion, and definitely some vignette, though all of these are correctable in either camera or post. There's no question that you can produce some dynamic, intriguing images with this lens, and the fact that you can do it without breaking the bank ($699 USD MSRP) is just icing on the cake. It's also an intriguing option for video either on a gimbal (light weight and good autofocus help!) or for doing vlogging. By the end of my review period, I had come full circle and appreciated this lens for its many strengths despite having a few shortcomings. If you want a really wide angle of view and can't afford the pricey Canon RF 15-35mm F2.8L IS, then the Samyang RF 14mm F2.8 might just be the lens for you.
I prefer to read reviews instead of watching videos so I truly recommend you head over to Dustin Abbott's site, if not for else at least to see some beatiful pictures of a Canadian winter landscape. For those who prefer to watch reviews, the two videos below should suit.
Samyang lenses are also branded Rokinon, depending by geographic location.
Samyang RF 14mm f/2.8: Amazon DE, Amazon UK, Amazon IT, Canon IT, WEX Photographic, Canon FR, Canon UK, Canon DE
Samyang RF 14mm f/2.8 key features:
RF-Mount Lens/Full-Frame Format
Aperture Range: f/2.8 to f/22
Three Aspherical and Two ED Elements
Ultra Multi-Coating
Samyang AF 14mm f/2.8 Overview
Offering a super wide field of view along with an autofocus design, the AF 14mm f/2.8 RF from Samyang is a prime wide-angle lens for Canon RF-mount mirrorless cameras. Its relatively fast f/2.8 maximum aperture suits working in difficult lighting conditions, and its optical design incorporates three aspherical and two low dispersion elements to help reduce distortion and color fringing for improved clarity and sharpness. An Ultra Multi-Coating has also been applied, as well as an integrated lens hood, to suppress flare and ghosting for greater contrast and color accuracy when working in strong lighting conditions. Additionally, the lens' autofocus motor provides quick and precise focusing performance, and manual focus override is also available for more refined control.
Super wide-angle prime is designed for full-frame Canon RF-mount mirrorless cameras.
Three aspherical elements are incorporated in the optical design to control spherical aberrations for increased clarity and resolution from edge to edge.
Two extra-low dispersion glass elements work to reduce chromatic aberrations; improve overall image sharpness, clarity, and color fidelity; and help to minimize the overall weight of the lens.
An Ultra Multi-Coating has been applied to individual elements in order to reduce flare and ghosting for increased contrast and a neutral color balance.
The integrated autofocus motor provides quick, accurate, and precise AF control. Manual focus override is also available for refining your focus position.Rounded seven-blade diaphragm contributes to a smooth and pleasing bokeh quality.