Sigma Announced Mount Converter MC-21, Pricing and Availability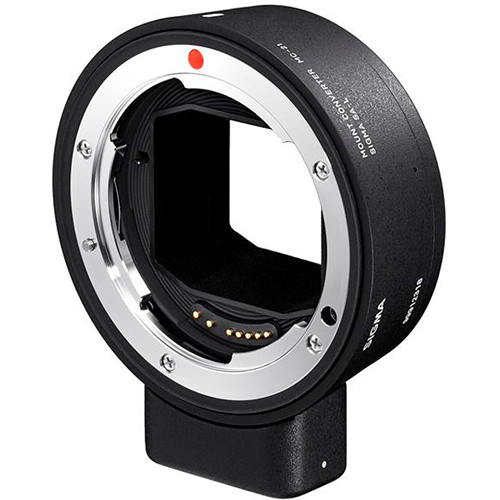 Available April 2019, the Sigma MC-21 can already be pre-ordered.
Sigma MC-21 Mount Converter/Lens Adapter (Canon EF-Mount Lenses to Leica L) – $249 – B&H Photo | Adorama.
Sigma Announces Pricing & Availability for Sigma Mount Converter MC-21
Available in April 2019, the new accessory ensures compatibility of the Sigma lenses in EF and SA mounts with the L-Mount camera systems.
Ronkonkoma, NY – March 29, 2019 – Sigma Corporation of America, a leading still photo and cinema lens, camera, flash and accessory manufacturer, today announced pricing and availability for the new Sigma Mount Converter MC-21, offering photographers a wider range of lens options for L-Mount cameras from Sigma, Leica and Panasonic. The SigmaMC-21 will start shipping in April 2019 and will be priced at $169.00 USD for Sigma SA-L mount and $249.00 USD for Canon EF-L mount.
Features
The Sigma Mount Converter MC-21 allows for Sigma's SA mount and Canon EF mount lenses to be used on L-Mount camera bodies. By attaching MC-21 to a Sigma SA mount or Sigma Canon EF mount lens, it becomes compatible with the L-Mount camera system without compromising usability and image quality. The development of Sigma MC-21 increases the number of interchangeable lenses manufactured by Sigma to be used with the L-Mount systems by 29, offering a total of 40 lens choices, including 11 DG Art primes with native L-mount. The addition of MC-21 to the Sigma accessory lineup will increase the accessibility of the L-Mount system and further Sigma's role in the strategic L-Mount Alliance alongside Leica and Panasonic.
The full list of compatible lenses and technical specifications can be accessed here and product imagery can be downloaded here.
Pricing
The lower price for the Sigma MC-21 in Sigma SA-L mount reflects the company's appreciation for the loyal Sigma camera users as the MC-21 in Sigma SA-L mount allows for Sigma SA mount lenses to be used on any L-Mount camera body. Eventually, Sigma will aim to replace its SA mount lenses with the native L-mount versions, but until then, Foveon shooters can rely on the existing offering of Sigma MC-21 at a lower price point to ease the transition to the new system.