Tamron announce SP 70-200mm F/2.8 Di VC USD G2, pre-order available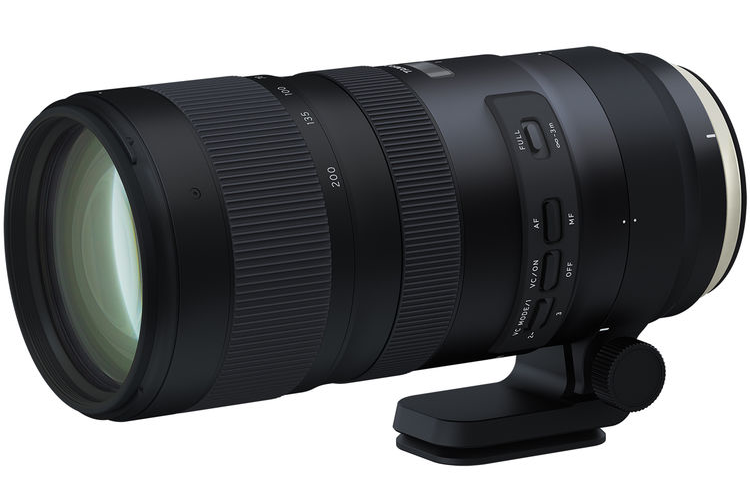 Tamron SP 70-200mm F/2.8 Di VC USD G2 at a glance:
Canon EF-Mount/Full-Frame Format
Aperture Range: f/2.8 to f/22
One XLD Element, Five LD Elements
eBAND, BBAR, and Fluorine Coatings
Ultrasonic Silent Drive Autofocus Motor
VC Image Stabilization
Dust and Moisture-Resistant Construction
Removable Arca-Compatible Tripod Mount
Rounded Nine-Blade Diaphragm
Tamron announced the SP 70-200mm F/2.8 Di VC USD G2. You can pre-order the SP 70-200mm F/2.8 Di VC USD G2 at $1,299 at Adorama and B&H Photo.
Press release:
February 7, 2017, Saitama, Japan – Tamron Co., Ltd. (President & CEO: Shiro Ajisaka), a leading manufacturer of optics for diverse applications, announces the launch of SP 70-200mm F/2.8 Di VC USD G2 (Model A025), a new telephoto zoom lens product for 35mm full-frame DSLR cameras. Model A025 was developed by substantially enhancing the features of its predecessor.
These included a thorough review of the optical, mechanical and electronic designs to enhance increase autofocus speed and precision, reinforce VC (Vibration Compensation) functions and to shorten MOD. New features include eBAND Coating, Moisture-Proof and Dust-Resistant Construction, Fluorine Coating and compatibility with tele converters. The lens design features a metal-based barrel for improved handling and ease-of-use. The result of this dramatic evolution is Model A025, a high-speed telephoto lens that widens the scope of expression for photography in a broad range of genres, such as portraits, landscapes, sports and photojournalism.
Product name
SP 70-200mm F/2.8 Di VC USD G2
(Model A025)
Date of Launch (in Japan)
February 23, 2017
The Canon and Nikon mount models will be launched simultaneously.
*1 CIPA Standards Compliant Using in VC MODE 3 (For Canon: EOS-5D MKIII is used / For Nikon: D810 is used)
Product Highlights
Outstanding resolution and contrast reproduction performance, beautiful bokeh and full compatibility with Tamron tele converters
Based on the current model (A009), the optical design has been revised and improved. Both the resolution and contrast reproduction performance far exceed the present levels.
Bokeh has been enhanced and expanded to deliver outstanding background effects across the entire zoom range. Use of a circular diaphragm with nine blades further improves bokeh. The optical design of the new A025 consists of 23 elements in 17 groups. Optimum deployment of XLD (eXtra Low Dispersion) and LD (Low Dispersion) glass elements thoroughly eliminate chromatic aberrations, which tend to become particularly prominent in high-speed telephoto lenses, across the entire zoom range, while ensuring uniform, high-level image quality even on the periphery of the image plane.
The new lens is also fully compatible with the TELE CONVERTER 1.4x (Model TC-X14)

*2

 and TELE CONVERTER 2.0x (Model TC-X20)

*2

, which increase the focal length of the lens to 1.4 times and 2 times the original, respectively. Both tele converters are carefully designed and constructed to provide outstanding high quality.

Changes in zoom range when used with SP 70-200 mm F/2.8 Di VC USD G2 (Model A025)

Mounted on 35 mm full-frame DSLR camera
Mounted on APS-C format DSLR camera
Without tele converter
70-200mm
Approx. 109-310mm
With 1.4x tele converter

*2

98-280mm
Approx. 152-434mm
With 2.0x tele converter

*2

140-400mm
Approx. 217-620mm

Changes in magnification ratio when used with SP 70-200mm F/2.8 Di VC USD G2 (Model A025)

Maximum Magnification Ratio
Without tele converter
1:6.1
With 1.4x tele converter

*2

1:4
With 2.0x tele converter

*2

1:3

Available focusing mode when used with SP 70-200mm F/2.8 Di VC USD G2 (Model A025)

When using viewfinder
When using live view mode
With 1.4x tele converter

*2

AF Possible
AF

*3

Possible
With 2.0x tele converter

*2

AF Possible
AF

*3

Possible

*2. For more detailed information about tele converters, please refer to the Tamron website.
*3. Subjects with low contrast and/or luminosity values can sometimes result in out-of-focus images.
Improved VC system provides highest Vibration Compensation ability in its class

*1

 (5 stops using CIPA standard compliant) and offers three situation-specific VC modes
Utilizing Tamron's original VC (Vibration Compensation) system, which uses a moving coil mechanism, further reinforcement of the drive system power and control performance has now achieved the highest VC level in its class,

*4

 with an image stabilization performance of 5 stops according to the CIPA standard (when using VC Mode 3).Also, the VC system of Model A025 offers three VC modes, including one mode exclusively for panning. Photographers can freely choose between the different VC modes according to the shooting conditions. Even for telephoto shooting in low light, which tends to be severely affected by camera shaking, photographers can now enjoy jitter-free handheld shooting with much greater flexibility.
*4. Among 70-200mm F/2.8 interchangeable lenses for full-frame DSLR cameras (as of January :Tamron)VC MODE 1 is the standard mode that strikes a great balance between the stability of the viewfinder image and the stabilization effects.
VC MODE 2 is exclusively used for panning.
VC MODE 3 prioritizes the stabilization of the captured images and forgoes the stabilization of the viewfinder image.With the optional accessory TAMRON TAP-in Console

TM

, you can customize the configuration of
VC MODE 1. Choose the viewfinder view of either standard or image priority.
Demonstratively improved autofocus speed and responsiveness
Model A025 is equipped with a USD (Ultrasonic Silent Drive) ring-type ultrasonic motor, whose outstanding responsiveness and control ensures accurate high-speed focusing. Incorporating two advanced, high-performance microcomputers and optimizing the algorithm has improved both the focusing speed and accuracy compared with SP 70-200mm (Model A009). Additionally, thanks to the Full-time Manual Focus override mechanism, photographers shooting with AF can instantaneously make fine focusing adjustments using MF without wasting time by switching the AF-MF mode back and forth.
Focuses closer (shorter Minimum Object Distance, or MOD) for greater versatility
Improvements made to the focus cam and zoom cam inside the lens barrel have reduced the MOD from 1.3m (50.7 in) in the older Model A009 to 0.95m (37.4 in) for Model A025, which has a maximum magnification ratio of 1:6.1. The shorter MOD, coupled with the excellent optical performance of the SP 70-200mm (Model A025), allows photographers to further broaden their range of expression.
Optimized and exclusively designed eBAND Coating
The new A025 features Tamron's original eBAND (Extended Bandwidth & Angular-Dependency) Coating, a technology that combines a nano-structured layer with an extremely low refractive index with the conventional multiple-layer coatings. Optimized and exclusively designed for this new zoom, the eBAND Coating provides superior anti-reflection performance, effectively reducing any flare and ghosting. Even when taking backlit portraits, the new lens delivers flawless, crystal clear images.
Moisture-Proof and Dust-Resistant Construction
Ideal for use in outdoor photography, the new 70-200mm telephoto zoom has moisture-resistant construction because special sealants that are dust-resistant and moisture-resistant are used at every joint and seam. The sealant material helps to prevent the intrusion of any dirt, dust or water droplets, compared to conventional Moisture-Resistant Construction.
Fluorine Coating for greater protection
The front surface of the lens element is coated with a protective fluorine compound that is water- and oil-repellant. The lens surface is easier to wipe clean and less vulnerable to the damaging effects of dirt, dust, moisture and fingerprints.
Electromagnetic diaphragm system now used also for Nikon-mount lenses
An electromagnetic diaphragm system, which has been a standard feature for Canon-mount lenses, is now available for in Nikon-mount lenses

*5

. More precise diaphragm and aperture control is possible because the diaphragm blades are driven and controlled by the motor through electronic pulse signals.*5 Available only with cameras compatible with the electromagnetic diaphragm (D3100, D3200, D3300, D3400, D5000, D5100, D5200, D5300, D5500, D5600, D7000, D7100, D7200, D300, D300s, D600, D610, D700, D750, D800, D800E, D810, D810A, D3x, D3s, D4, D4s, Df, D500, D5). (As of January; Tamron)
Lightweight and easy-to-hold tripod mount is compatible with Arca-Swiss style quick release plates
A new textured grip and Arca-Swiss style tripod interface enhances both speed and utility. Because the tripod mount is made of lightweight magnesium, it is much easier to carry.
Compatible with TAMRON TAP-in ConsoleTM, an optional accessory product
The optional TAP-in Console provides a USB connection to a personal computer, enabling users to easily update the lens firmware as well as customize features, including fine adjustments to the AF and VC.
Based on the rigorous quality standards worthy of the SP series, this new lens is manufactured with a thorough attention to details
For the SP series products in particular, Tamron has established rigorous design and quality standards. These standards apply to the optical design, mechanical design and the cosmetic appearance, as well as to such wide-ranging areas as the product's robustness and improvements in the various individual functions. Tamron thoroughly reviews of all of the design and manufacturing processes in order to offer products to customers with even-higher levels of precision and quality.
For the SP 70-200mm G2 (Model A025), the optical design was refreshed, mechanical parts were improved and a new exterior design was adopted. To maximize the optical performance intrinsic to this product, Tamron improved the accuracy of the component parts and increased the precision of the overall zooming mechanism.
Specifications
Model
A025
Focal Length
70-200mm
Maximum Aperture
F/2.8
Angle of View (diagonal)
34°21′ – 12°21′ (for full-frame format)
22°33′ – 7°59′ (for APS-C format)
Optical Construction
23 elements in 17 groups
Minimum Object Distance
0.95m (37.4 in)
Maximum Magnification Ratio
1:6.1
Filter Size
Φ77mm
Maximum Diameter
Φ88mm
Length

*

for Canon 193.8mm (7.6 in)
for Nikon 191.3mm (7.5 in)
Weight

**

for Canon 1,500g (52.9 oz)
for Nikon 1,485g (52.4 oz)
Aperture Blades
9 (circular diaphragm)
Minimum Aperture
F/22
Image Stabilization Performance
5 stops (CIPA Standards Compliant)
Using in VC MODE 3
(For Canon : EOS-5D MKIII is used / For Nikon : D810 is used)
Standard Accessories
Lens hood, Lens caps, Lens case, Detachable tripod mount
Compatible Mounts
Canon, Nikon
Specifications, appearance, functionality, etc. are subject to change without prior notice.
* Length is the distance from the front tip of the lens to the lens mount face.
**Weight includes the weight of detachable tripod mount.