The Canon EOS R might have a killer feature: a touchbar selection feature with EVF display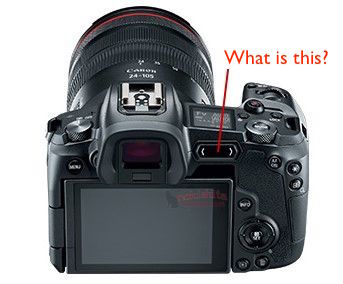 Have you noticed the small control "thing" just right of the EVF of the Canon EOS R in the image above?
We think the small "thing" immediately on the right of the EVF (Electronic View Finder) might be a touchbar selection option as we know it from Apple's recent MacBook Pro. A touch sensitive selection button with back and forward list options. I guess what you're about to select will be displayed in the EVF. This feature alone might make a huge difference, and differentiate the Canon EOS R from competitors.
What do you think, is this "small control thing" on the right of the Canon EOS R EVF what we think it is?
All leaked images and specs of the Canon EOS R, the new and very interesting RF lenses, and the other gear Canon is going to announce are displayed here. Announcement of the Canon EOS R and four new RF lenses is expected for September 5, 2018. Stay tuned.