This is what we know about Canon's RF Mount Lenses Roadmap (3 more lenses with f/2.8 coming in 2019)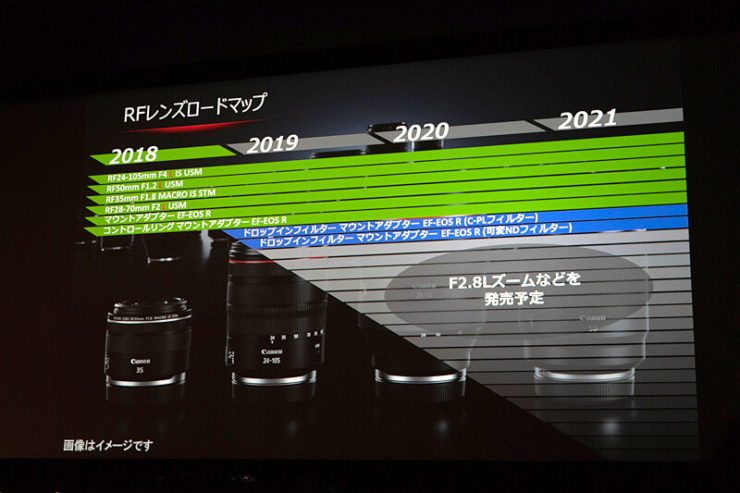 Not very much, to be honest.
DC.Watch posted a picture (above) of a slide taken from a Canon meeting which gives us some hints about what is coming. In 2019 Canon will most likely announce three more fast lenses with f/2.8: a wide angle lens, a prime lens, and a telephoto lens. Shipping is expected in October 2018.
Starting today,, September 12, you can pre-order the Canon EOS R and the new RF mount lenses:
Pre-order in the USA, Canon EOS R: B&H Photo | Adorama | Canon USA | Amazon
Pre-order in the USA, Canon RF mount lenses: B&H Photo | Adorama | Canon USA | Amazon
Canon EOS R world-wide pre-order links:
America: B&H Photo, Adorama, Amazon USA, Amazon Canada, Canon Canada, Canon USA
Europe & UK: Amazon DE, Amazon UK, Amazon IT, Canon IT, WEX Photographic, Canon FR, Canon UK, Canon DE

Canon RF mount lenses world-wide pre-order links:
America: B&H Photo, Adorama, Amazon USA, Amazon Canada, Canon Canada, Canon USA
Europe & UK: Amazon DE, Amazon UK, Amazon IT, Canon IT, WEX Photographic, Canon FR, Canon UK, Canon DE