This Very Rare Canon 45-200mm f/2.8 Prototype Lens might be yours, for $40k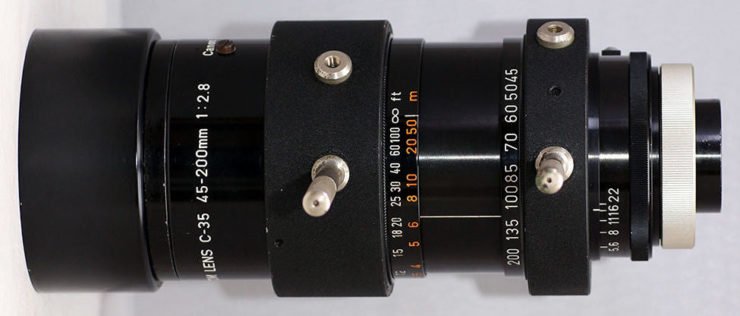 If you're a lens collector looking out for something extremely rare, then this might be for you.
What appears to be a very rare Canon prototype lens, a Canon 45-200mm f/2.8 lens with unknown mount type, is sold on eBay UK for $40,000.
We did a quick research and found almost nothing about this lens. In 1960 Popular Photography Magazine reported that Canon would announced a 45-200mm lens for their 35mm Canonflex system. Lenses for the Canonflex system had the R lens mount, so this 45-200mm f/2.8 lens might have a R mount. The Canon Camera Museum does not list a 45-200mm lens in the R mount section. And that's all we found. It definitely appears to be a prototype lens from a very limited batch. If you have additional information please let us know in the comment section.
The Canon 45-200mm F/2.8 prototype lens is sold by seller smokegrafix on eBay UK for around £31,000/$39,999. We have no experience with this seller so we can't give you any advice. The rating is 100% positive and based on 360 customers. We confide you know how to roll on eBay.
Below you can see some picture of the Canon 45-200mm f/2.8 prototype lens that's sold on eBay UK. The seller describes the Canon 45-200mm f/2.8:
[…] the lens is in Excellent+++ condition, both cosmetically & optically, with perfect mechanical , clean blades, it has a unique aperture feature so you can get both click and click free aperture by just screwing and unscrewing the click screw on aperture ring. The lens was recently serviced, optics are cleaned, and rear optic has minor sign on the coating in the corner, as it was properly cleaned from fungus and is missing little coating, which has nothing to do with image quality. There is a filter on the front optic from the day first, and professional follow focus gears are attached on the lens from the first day.
The lens came with original metal heavy duty box, Genuine front cap, Filter, Hood, Follow focus knob's, and a Lens sliding attachment Rig. The lens only weights approximately 2.8 to 3kg, and with the whole package it weights about 7.5 kg,