Yongnuo Also Cloned the Canon 2x III Telephoto Extender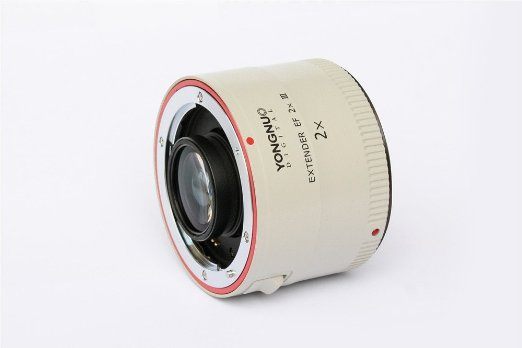 Thanks to reader who gave the tip
Yongnuo is getting a lot of press these days, having cloned the Canon EF 50mm f/1.8, and then announced it will produce another "replica", the EF 35mm f/2.
And that's not all. I just learned you can buy a replica of Canon's 2x III telephoto extender, again made by Yongnuo. It's available on Amazon for $180, and it is a lot cheaper than the original Canon EF 2.X III Telephoto Extender, which sells for $449.
The Magnification: 2 times

Mount:EF mount(Electronically controlled)

Lens construction: 9 elements in 5 groups

Dimensions(max.dia. ×length): 55×73.9mm

When Extender EF2X is attached,the lens maximum aperture will be smaller by 2 stop.In the above two case, the camera will compensate the exposure automatically.
Where will this end? Will Yongnuo start to clone "L" lenses too? :-)