Zoner Photo Studio X Photo Editing Software Gets EISA Award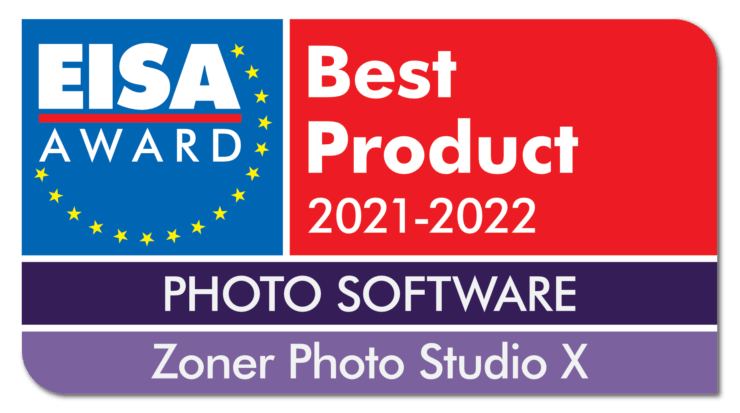 EISA awards have been distributed. The Zoner Photo Studio X photo editing software was awarded. A 30 days trial version available for download.
Here is the press release:
16 August 2021 Brno, Czech republic) – Zoner Photo Studio X, the all-in-one photo editing software based in Brno, Czech Republic has yet again defied the odds against the industry giants by winning another of the world's most renowned awards in the photography industry. That is, The EISA PHOTO SOFTWARE 2021-2022 award.
If you weren't already familiar with EISA (The Expert Imaging and Sound Association), it is a community of 60 technology magazines, websites and social media commentators from 29 countries that specialize in Hi-Fi, home theatre, photo & video, in-car and mobile electronics. For each and every year, the jury of EISA experts carefully tests, examines and goes through the presentations of particular products companies' nominate for consideration of an EISA Award.
"Not only are we thrilled to be recognized by EISA but this award, along with our highly-anticipated Autumn update further cements our place among the tough and dominant competition we face, we do not plan on slowing down," stated Michal Prouza, head of the software division for ZONER Software which develops ZPS X.
For over 36 years, the EISA organization spent tireless hours gathering information and analyzing the best of the best in each respective technology segment. This year is no different. For the photography expert group, a team of 16 Editors in Chief shortlisted candidates in a total 23 award categories. And, after absorbing the presentation on ZPS X and testing it, came to the conclusion that there is serious merit to the product. This is not a simple achievement with such strong competition.
"The entire process was a pleasure and the complete panel of Editors along with the President are true professionals in every sense. I'm extremely proud we were able to present ZPS X on a very technical level and have the EISA Association reflect that in their final decision," disclosed Thomas Urban who has been thoroughly corresponding with The EISA Association on behalf of ZONER Software.