Canon And Sigma 35mm Lenses Reviews Round-up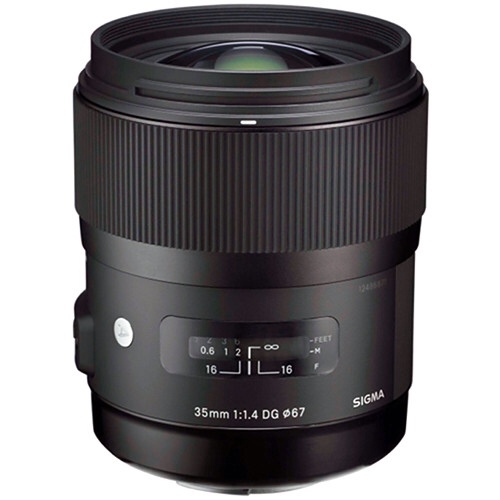 Sigma 35mm f/1.4 DG HSM (price & specs) and Canon EF 35mm f/2 IS USM (price & specs) reviews round-up. The Canon 35mm used with a low-light champ like the Canon EOS 6D (price & specs) becomes a "low-light shooter's dream ticket" (see below).
Sigma 35mm f/1.4 DG HSM tech specs:
Aperture Range: f/1.4-16
Hyper Sonic Motor (HSM)
Floating Internal Focus System
Minimum Focusing Distance: 11.8″
Anti-Flare Super Multi-Layer Coating
USB Dock: Adjust AF & Update Firmware
Special & "F" Low Dispersion Elements
Front Filter Thread Diameter: 67mm
SIGMA Optimization Pro Software
9x Circular Aperture Blades
Canon EF 35mm f/2 IS USM tech specs:
Aperture Range: f/2.0-22
Hybrid Image Stabilization (IS)
Glass Molded Aspherical Element (GMo)
Rear Focusing & Ultra Sonic Motor (USM)
Full-Time Manual Focus in AF Mode
Micro‐Stepping Drive Aperture
Minimum Focusing Distance: 9.48″
Ring USM Low-Speed Drive for Video
Eight Circular Aperture Blades
Canon and Sigma 35mm lenses reviews…
Canon EF 35mm f/2 IS USM at The Online Photographer (excerpts from the review):
Autofocus on the 35mm works like it should: fast and nearly silent. The focusing takes place inside the lens. Nothing moves on the outside.
[…] produces sharp pictures at all apertures
The biggest surprise […] is how effective the image stabilization is on this lens
[…] this might be the best low-light lens around
[…] could reliably shoot a 35mm lens at 1/15th of a second
Canon EF 35mm f/2 IS USM at Photography Blog (highly recommended), quoting the conclusion:
Despite it's lack of an L-series billing and plastic construction, the Canon EF 35mm f/2 IS USM build quality is reassuringly good […]

The capable image stabilisation system used in conjunction with a high-ISO monster like the EOS 6D is a low-light shooter's dream ticket […]

Image quality is generally very good. Chromatic aberrations are well controlled, geometric distortion is impressively low for a wide-angle lens, and the Super Spectra coatings successfully prevent contrast loss attributable to flare. The only real optical issues are obvious corner shading at the maximum aperture.
Canon EF 35mm f/2 IS USM at The Digital Picture, excerpts:
The combination of an f/2 aperture, 35mm focal length and 4-stop IS makes the 35 IS, at review time, arguably the most low-light-handholdable full frame format Canon lens available (just ahead of the 24 f/2.8 IS). And the 35 f/2 perhaps equals the most handholdable Canon lens available.
The Canon EF 35mm f/2 IS USM Lens does have image quality that challenges Canon's best L lenses covering 35mm.
The Canon EF 35mm f/2 IS USM Lens shows impressively little CA (Chromatic Aberration). The f/2 IS's performance is better than both the 35 f/2 non-IS and the 35 f/1.4 L in this regard.
The Canon EF 35mm f/2 IS USM Lens shows very little distortion
Sigma 35mm f/1.4 DG HSM at The Phoblographer (with dozens of sample images, also shot using film). Excerpts from the review:
The 35mm f1.4 feels as if the exterior was made from metal; but indeed it wasn't. It's a hard plastic that just feels very Zeiss and Hasselblad like. The Germans must be shaking in their boots with the introduction of this lens.
Pro: Very affordable, Extremely sharp, Fast focusing, Stellar build quality
Cons: May need some micro adjustment out of the box, No weather sealing
Conclusion:

Overall, we can't really say anything very terrible about the Sigma 35mm f1.4 EX. Even though it doesn't have weather sealing, there are options out there that can do this for you. Otherwise, it has a wonderful build quality, eye-popping image quality, and is a relative speed demon when it comes to focusing.

For quite a while, I loved my Canon 35mm f1.4 L USM. But after some time, I started to believe that the company needed to update it with sharper optics. In my opinion though, they're taking a bit too long and when I used the new 24-70mm f2.8, I was very disappointed. With that said, Sigma offers users not only a better and more affordable option, but one that you'll end up proudly carrying around with you all the time.

This lens gets our Editor's Choice award and our highest recommendations for DSLR user
That's it!
Sigma 35mm f/1.4 DG price check: B&H Photo, Adorama, Amazon USA, Amazon Canada, Canon Canada, Canon USA Canon EF 35mm f/2 IS USM price check: B&H Photo, Adorama, Amazon USA, Amazon Canada, Canon Canada, Canon USA