Canon Announces New Generation of Home Office Printers and Scanners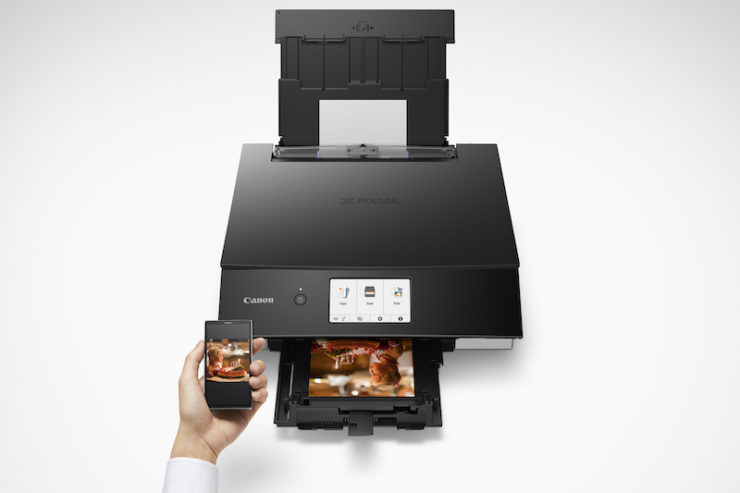 Canon press release:
Calling All Multi-Taskers: Canon Introduces The Next Generation of Home Office Printers and Scanners
Canon's Latest Printers and Scanners Merge High-Quality Printing with Convenience and Ease of Use
MELVILLE, N.Y., August 7, 2018 – In a world run by multitasking, it's imperative to have the right kind of equipment to help keep everything running smoothly. Designed with busy families and home office usage in mind, Canon U.S.A., Inc., a leader in digital imaging solutions, today announced four new PIXMA TS-series and TR-series Wireless1 Home Office All-in-One (AIO) printers and two new home scanners: the PIXMA TS9520, PIXMA TS8220, PIXMA TS6220, and PIXMA TR4520 AIO printers and the CanoScan LiDE 300 and CanoScan LiDE 400 Color Image Scanners. The latest printer models offer hands-free printing with voice control devices, as well as simple, smartphone-based printing and editing for users with compatible smartphones through the Canon PRINT2 and Easy-PhotoPrint3 apps. In addition, the printers possess quick and easy set-up thanks to the Canon Print App, providing 'cableless' setup mode with the touch of a button.
Compatible with the Amazon Alexa4™ virtual assistant, the four new printers enable Amazon account holders to issue voice commands such as "Alexa, start 'Canon Printer' and 'print a coloring page'" to an Amazon Echo or other Alexa-enabled device. This feature makes it possible for consumers to print materials such as coloring pages and number place puzzles using only their voice. Users can also confirm their printer's status, such as remaining ink levels, using voice commands. Canon plans to include support for such Google Assistant-enabled devices as Google Home™towards the end of 2018, which will then enable Google account holders to print content and confirm printer status information using voice commands as well.
"At Canon, we are continually innovating to enhance existing products and develop new devices that will fit seamlessly into the everyday lives of our users," said Kazuto Ogawa, president and COO, Canon U.S.A., Inc. "With voice-enabled printing, Bluetooth®4 connectivity and printing from compatible smartphones2, users can print with convenience and flexibility, while still achieving the same level of quality that is synonymous with Canon products."
The PIXMA TS9520 Printer offers premium quality and functionality benefits to print, copy, scan both documents and photos beautifully including 11inches x17 inches documents. The printer also features an enhanced multipurpose tray, enabling users to print on select materials other than paper, such as disc labels, providing a variety of home office output functions all in one machine.
The PIXMA TS8220 Printer is a compact, business and home office 3-in-1 option for speedy operations and redesigned with a mirrored finish, to create a printer that fits in seamlessly with any home décor. The printer features a 4.3-inch touch panel for a streamlined user experience as well as 45 built-in patterns for customized prints. Similar to the TS8220 model, the PIXMA TS6220 3-in-1 printer features high-speed document printing for producing text, graphs, and images with vivid clarity and 35 built-in patterns to create customized prints. In addition, like the other TS models, the TS6220 also features individual ink tanks so the user only replaces the ink that is needed.
Canon's 4-in-1 compact business and home office inkjet printer, the PIXMA TR4520 supports automatic copying of multiple sheets with an automatic document feeder (ADF). In addition, the printer can copy both sides of an ID card or card-sized documents automatically and can fax documents.
All four printers include two-sided printing, copying, scanning, Wi-Fi® capabilities and hybrid color-ink systems.
New additions to the Canon scanner lineup, the CanoScan LiDE 300 Color Image Scanner and CanoScan LiDE 400 Color Image Scanner are lightweight and portable for families on the move. Powered by USB and featuring an advanced Z-lid expansion top, both scanners allow easy scanning, especially of thick documents up to 1.5 inches high, like magazines and books.
The PIXMA TS9520 printer has an estimated retail price of $249.995. The PIXMA TS8220 and PIXMA TS6220 printers have an estimated retail price of $199.99 and $149.99 MSRP5, respectively and the PIXMA TR4520 printer has an estimated retail price of $99.99 MSRP5.
The CanoScan LiDE 300 Color Image Scanner has an estimated selling price of $89.995 and the CanoScan LiDE 400 Color Image Scanner has an estimated selling price of $69.995.
For more information and the full list of product specifications, visit http://shop.usa.canon.com/.