Canon Cameras Do Not Properly Delete Copyright Info (all EOS cams since 2007)

You likely know that you can set up copyright info in you Canon camera and I am sure a lot of you do. It's a good idea if you care about intellectual rights. Unfortunately it seems your info stays there even after you deleted it from the settings.
That's not good, and even worse for the privacy-concerned people. Copyright information you can save consists of owner name, artist name, copyright and IPTC info (on newer cameras). Laszlo Pusztai, author of the ShutterCount app, found a weird bug in Canon EOS cameras, and according to him it affects all EOS cameras since 2007.
You use the camera's Delete copyright information menu item, thinking that it will remove everything. Unfortunately this isn't the case. Besides not touching owner and IPTC fields at all, it only replaces the very first character of the author name and copyright fields with a zero, leaving your previously set copyright information in the camera.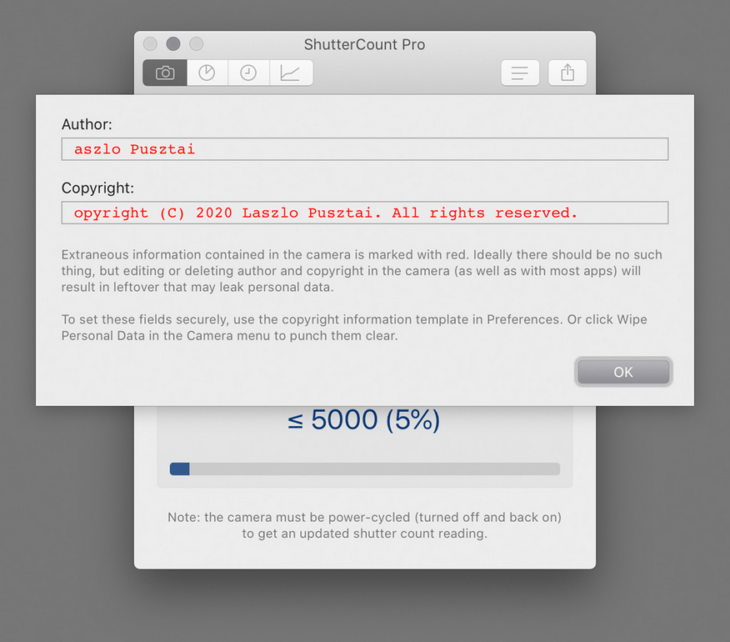 That's bad. Imagine you sell your camera. You don't want a camera with your copyright info to go around the world. And what if your old camera is found at a crime scene? Or let's say your camera gets stolen and even if the thief deletes copyright information from settings, law enforcement might still find your name and address. Just use your imagination: an electronic device out there with your personal information stored on it an readable to anyone.
Laszlo's article explains how this bug also affects the EOS Utility, and how to get rid of the problem. Either with the ShutterCount app, or manually by going through an easy yet time consuming process:
[…] first delete both the owner and and IPTC info with EOS Utility, then go into the camera's menu and completely fill the author and copyright fields with spaces, or X characters (or anything you would like), and save them. Then use the Delete copyright information menu item.
Or you can do it automatically, the ShutterCount Pro Wipe Personal Data command will securely delete all ownership and copyright information from the camera.
Let's hope Canon fixes this ugly bug soon, and thanks to Laszlo for sharing his findings.