Canon EOS-1D C Is The First DSLR To Meet EBU HD Tier 1 Requirements for Broadcast Production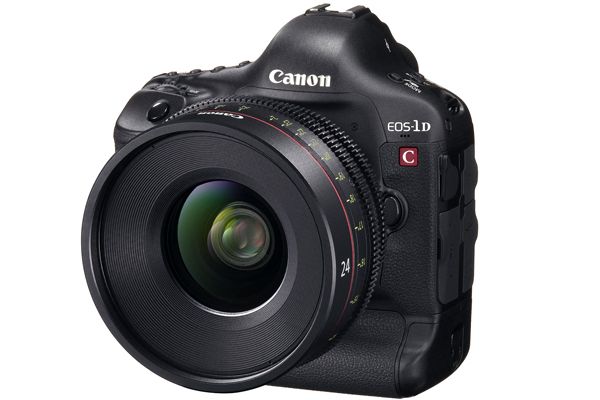 Canon EOS -1D C: B&H | Adorama | rent it at Borrow Lenses.
Canon press release:
Canon EOS-1D C first digital SLR camera to meet EBU HD Tier 1 imaging requirements for broadcast production
TOKYO, Japan, November 12, 2013—Canon Inc. today announced that the EOS-1D C digital SLR camera, part of the company's Cinema EOS System lineup of digital cinematography products, has been independently tested in accordance with European Broadcasting Union (EBU)1 standards for HD content acquisition.2 The tests found that the EOS-1D C is the first digital SLR camera to satisfy the stringent testing criteria for HD production.
Results indicated that the EOS-1D C provides "exceptional" HD resolution from a 4K source with "very low" aliasing, and "good" color performance and motion portrayal. The test results also confirmed that the EOS-1D C camera system and its imaging performance comply with the recommended specification for inclusion in HD Tier 1 for HD production.3
A new free-of-charge firmware update for the EOS-1D C to be made available on November 12 will enable the camera to correct for insufficient peripheral illumination when outfitted with supporting EF Cinema Lenses4 and make possible audio line input.
Additionally, an enhanced version of the EOS-1D C's dedicated EOS MOVIE Utility software for Macintosh5 and Windows,6 scheduled to be made available free of charge in late December, adds a Mac-version video playback function and the ability to capture consecutive still images from a video file.
Canon will continue striving to enhance the functionality of its Cinema EOS System, contributing to further expanding the realm of visual expression and the development of cinematic culture.
1

Founded in 1950, the EBU serves 74 members in 56 countries in and around Europe. It represents its members and promotes the values and distinctiveness of public service media in Europe and around the world.

2

EBU Tech 3335: Methods of measuring the imaging performance of television cameras for the purposes of characterisation and setting (http://tech.ebu.ch/docs/tech/tech3335.pdf)

3

EBU Recommendation R.118: Tiering of High Definition Cameras (http://tech.ebu.ch/docs/r/r118.pdf)

4

Supported EF Cinema Lenses: CN-E 15.5-47mm T2.8 L S, CN-E 30-105mm T2.8 L S, CN-E14mm T3.1 L F, CN-E24mm T1.5 L F, CN-E50mm T1.3 L F, CN-E85mm T1.3 L F, and CN-E135mm T2.2 L F

5

Macintosh is a trademark of Apple Inc., registered in the United States and other countries.

6

Windows is a registered trademark of Microsoft Corporation in the United States and other countries.