Canon EOS 5DS and EOS 5DS R live streaming discussion on Monday June 15 (UPDATE)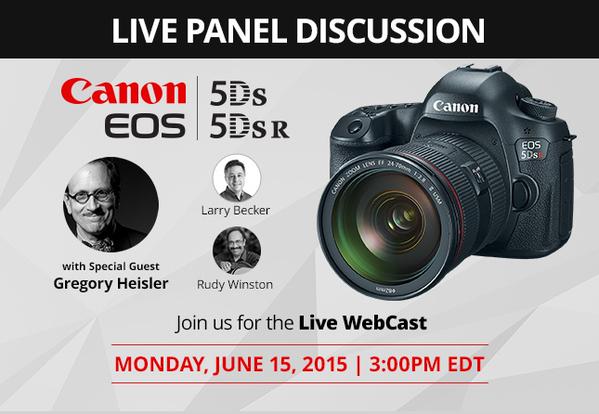 Update: You can now sign up at B&H Photo to get notified by email when the live stream starts.

B&H Photo will stream a live discussion panel for the EOS 5DS and EOS 5DS R on Monday, June 15, at 3PM EST. Photographer Gregory Heisler and Larry Becker and Rudy Winston from Canon USA are there to discuss everything you may want to learn about Canon's high resolution DSLRs. Save the date!
Canon EOS 5DS: Amazon USA, Amazon CA, B&H Photo, Adorama, Digitalrev, KEH Camera, eBay US, Canon USA, Canon CA, BestBuy | Canon EOS 5DS R: Amazon USA, Amazon CA, B&H Photo, Adorama, Digitalrev, KEH Camera, eBay US, Canon USA, Canon CA, BestBuy